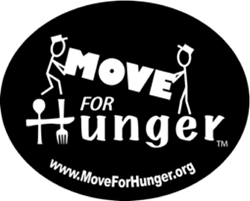 "We are thrilled to have 365 Home Warranty join us as a partner in giving back. With such devastating hunger statistics at both the local and national level, their efforts will provide crucial support to our mission." - Kristy Redford, Dir. of Development
Edison, New Jersey (PRWEB) July 24, 2014
Social responsibility and giving back to the community is one of 365 Home Warranty's top priorities. In 2014, 365 Home Warranty has confirmed a nonprofit partnership with Life Vest Inside and is now proud to announce a partnership with Move For Hunger to provide financial support for their fight against hunger. Starting this summer every new customer now has the option to choose Move for Hunger as their donation recipient when they complete a purchase. $2.00 of every purchase designated to Move for Hunger is donated by 365 Home warranty on behalf of the customer.
According to Move for Hunger, every day more than 49 million people in the United States struggle to find their next meal, including 17 million children. This is why 365 Home Warranty believes it is more important than ever to get involved in fighting hunger. "We are thrilled to have 365 Home Warranty join us as a partner in giving back," said Kristy Redford, Director of Development at Move For Hunger. "With such devastating hunger statistics at both the local and national level, their efforts will provide crucial support to our mission to bring additional food to those that need it the most."
Move For Hunger works with relocation companies across North America to pick up unused food from those who are relocating and want to donate unwanted food items. This food is then delivered it to local food banks to people in need. Currently, Move For Hunger is working with over 600 movers and has collected and distributed more than 3,500,000 pounds of food.
"Working with Move for Hunger was an easy choice for us," said 365 Home Warranty President Harry Bailey. "Our company is based on a foundation of social responsibility and building community. It is very important to us that our business contributes to organizations like Move for Hunger. Organizations that are doing deeply inspiring work and making the world a better place for everyone."
365 Home Warranty provides home warranty services and home protection solutions nationwide and has developed a variety of coverage plans at affordable prices. The 365 Home Warranty team strives every day to achieve the highest level of customer satisfaction.
For more information and to find out how you can help support Move For Hunger, visit MoveforHunger.org. To learn more about 365 Home Warranty and their home protections services and coverage packages visit 365HomeWarranty.com.