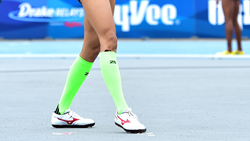 I feel like wearing the compression gear has helped me improve my recovery time, which has allowed me to train and compete harder.
Miami, FL (PRWEB) July 25, 2014
A few weeks have passed since USA Track and Field National Championships but the incredible high jump by Inika McPherson is a feat to continue celebrating. Held in Sacramento this past June, the USATF National Championships hosted the best track and field athletes competing in their sport. Zensah® athlete, Inika McPherson, won US Nationals with the 2nd best jump in the world and set a new World Record for the biggest height over head jump in history.
Zensah® is a Miami-based company that focuses on developing the best compression apparel and compression accessories for athletes to achieve their goals. Zensah® is best known of the compression leg sleeves which are Made in the USA and the first choice in compression by runners.
When competing and recovering, McPherson wears a variety of Zensah® gear including the Tech+ Compression Socks, compression arm sleeves, skull cap, and compression tops. The Zensah® Tech+ Compression Socks are made with 200 needle count making them durable, denser and better fitting socks. By wearing the Tech+ Compression Socks during competition and recovery, track and field athletes receive muscle support to help prevent injuries, reduce muscle swelling, and speed up recovery. Made with seamless construction, the Tech+ Compression Socks help prevent blisters and chafing. A lightly cushioned sole makes the Tech+ Socks very versatile to fit comfortably with all track and field shoes.
McPherson has also tried Zensah® gear like the compression leg sleeves, a great tool to help her clear her highest jumps. Others have challenged McPherson for choosing to be a high jumper because of her 5'4" height, making her smaller then many other athletes that compete in the sport. She is overcome those challenges and is now the American National Champion. McPherson achieved a 2.00 jump, making her a member of the 2 meters club for women.
"I am excited to wear the Zensah gear in both my works outs and competition. So much of performing at a high level is about recovery and keeping yourself healthy. I feel like wearing the compression gear has helped me improve my recovery time, which has allowed me to train and compete harder. It is light and comfortable and makes a huge difference both on and off the track. I can't wait until my next competition in Stockholm, where I'll be mentally and physically prepared. A big part of that preparation has come from wearing Zensah's products!" says McPherson.
Suzanne Kerpel, Marketing Director at Zensah® says, "Inika is an incredible athlete! It is great to have her as part of our team, alongside the other high jump athlete we work with Garrett Huyler. Inika's story is inspiring and it is an honor to support her as she continues to break barriers and reach new goals. We look forward to seeing what comes next!"
About Mountain PSG- Mountain PSG is a Los Angeles based full service sports and entertainment firm. By combining public relations, marketing, and client specific representation, Mountain provides its clients with a unique and extraordinarily personal representation experience. For more, please visit http://www.mountainpsg.com.
About Zensah: Zensah® is a Miami-based company, specializing in sports compression apparel. Their seamless compression socks, compression sleeves, full product line are praised by athletes and fitness enthusiasts, including running, cycling, triathlon, yoga, basketball, golf, and soccer. Zensah® offers compression products for performance and recovery. According to Leisure Trends Group Specialty Running RetailTRAK™, Zensah® is the number one selling Compression Leg Sleeves in the USA for Running Specialty.
Parker Robinson
marketing(at)zensah(dot)com
ZENSAH® COMPRESSION APPAREL
(305) 935-4619