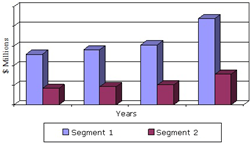 Global Market for Wire and Cable to Reach $297.4 Billion in 2019
Wellesley, MA (PRWEB) July 24, 2014
BCC Research (http://www.bccresearch.com) reveals in its new report, Wire and Cable: Materials, Technologies and Global Markets, the global market for wire and cable materials is expected to grow to $297.4 billion by 2019, with a five-year compound annual growth rate (CAGR) of 7.7%. Driven by increasing demand for data optimization and management, the telecom category, is moving at 8.5% CAGR.
The wire and cable materials market is segmented into two categories: power cables and those used in the telecom industry. The power cable category, the largest segment of the overall market, is expected to grow to $219.7 billion by 2019 with a CAGR of 7.5%. With a steadily improving global economy and increased energy demand and utilization in emerging markets, power cables will continue to dominate, accounting for more than 73% of the total market.
However, the telecom segment, which was valued at just $47 billion in 2013, is projected to jump to nearly $78 billion in 2019. Traditionally focused on global information, communications and technology (ICT) markets, newer domains are now gaining prominence in this segment, including industrial, energy, and consumer electronics.
"In terms of the telecom market, growth will be driven by high bandwidth and the data rich nature of a growing proportion of wireless and wireline communications," says BCC Research advanced materials analyst Kaustubha Parkhi. "The reach of these communication modes must be supported by fortified back ends; which means wider pipes at backbone and metro levels. BCC Research forecasts that optical fiber, which supports considerably higher data transfer than its metallic counterparts, will become increasingly mainstream and drive the growth of telecom cables."
Wire and Cable: Materials, Technologies and Global Markets provides an overview of the global markets for wire and cable materials, and related technologies. It includes analyses of global market trends, with data from 2012 and 2013, estimates for 2014, projections of CAGRs through 2019, and profiles of companies important in the industry.
Editors and reporters who wish to speak with the analyst should contact Steven Cumming at steven.cumming(at)bccresearch(dot)com.
About BCC Research
BCC Research publishes market research reports that make organizations worldwide more profitable with intelligence that drives smart business decisions. These reports cover today's major industrial and technology sectors, including emerging markets. For more than 40 years, we have helped customers identify new market opportunities with accurate and reliable data and insight, including market sizing, forecasting, industry overviews, and identification of significant trends and key competitors. We partner with analysts who are experts in specific areas of industry and technology, providing unbiased measurements and assessments of global markets. Our clients include the top companies in industries around the world as well as universities, business schools, start-ups, consulting firms and investment companies. BCC Research is a unit of Eli Research LLC. Visit our website at http://www.bccresearch.com. Contact us: (+1) 781-489-7301 (U.S. Eastern Time), or E-mail information(at)bccresearch(dot)com.
Data and analysis extracted from this press release must be accompanied by a statement identifying BCC Research LLC, 49-2 Walnut Park, Wellesley, MA 02481, Telephone: (+1) 781-489-7301; E-mail: editor(at)bccresearch(dot)com as the source and publisher. Thank you.