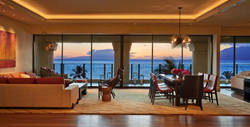 "Our vision for the suite renovations from the start was to create an environment—through design and atmosphere—that would say: "Aloha, welcome home. Brayton pushed himself to the intersection where style and 'wow' meet functionality and comfort."
Wailea, Maui, HI (PRWEB) July 24, 2014
Four Seasons Resort Maui at Wailea announces the completion this month of its $3 million renovation of the famed Maile suite and the introduction of the new Lokelani presidential/residential three-bedroom suites, just in time to welcome summer guests vacationing to this luxury resort in Maui.
With design direction from the internationally-acclaimed BraytonHughes Design Studios, San Francisco and London, the two Resort suites—the largest on the property and the largest in Hawaii—received a complete re-envisioning. No stranger to Four Seasons Resort Maui, the firm applied their design acumen to previous renovations of the entire Forbes Five Star resort.
Long favorites for discerning guests seeking maximum privacy – everyone from entertainment and music celebrities to affluent families—the two luxury suites have always been known for their posh, yet comfortable island design and décor. Both suites are suitable to host families and small groups requiring multiple bedrooms during their getaway to Maui. While designed differently and located separately within the resort, each suite provides a spectacular and commanding view of the Pacific Ocean. A private assistant is assigned to suite guests to handle logistics.
"Our vision for the suite renovations from the start was to create an environment—through design and atmosphere—that would say: "Aloha, welcome home. Richard Brayton pushed himself to the intersection where style and 'wow' meet functionality and comfort," says Jean Claude Wietzel, general manager, Four Seasons Resort Maui.
With this remake of the Maile and the Lokelani suites, new complimentary guest services and amenities have been woven into the ultimate suite stay. These include:

Double round trip transfers via the highly-touted Uber Black Car service in guests' home destination and a Four Seasons Resort Maui luxurious eco-friendly Tesla or private SUV;
Daily buffet breakfast in the award-winning DUO restaurant for all registered suite guests or breakfast in the suite itself;
Laundry service throughout the stay;
Private chef customized dinner in the suite
A Hawaiian-inspired or wellness-oriented spa treatment for each adult staying in the suite;
Use of a rental car—luxury sedan or seven-passenger mini-van—for the duration of the stay; overnight parking; and a separate van for luggage on arrival and departure if required.
"For design motif inspiration, we drew upon Hawaii's rich regal history and the lush beauty of Maui's colorful flora. Richly designed textiles, case goods, carpets and original art pieces work their collective magic in the Maile Suite," explains Brayton, FAIA, IIDA, principal, BraytonHughes Design Studios. He adds: "We wanted the Lokelani Suite to take advantage of its lush garden so we filled the interior with brightly colored textiles, lighter woods and decorative lighting and furnishings." The design firm is known for their exacting detail and carefully crafted blending and richness of materials. They have created breathtaking suites that place the accent on the oceanfront setting while providing comfort and the grandeur of a residence. The décor integrates curated museum quality art. Julie Cline, art consultant to the property, says that the collection showcases international artists inspired by their stays in Hawaii. They bring different cultural experiences to interpret the past with a contemporary vision. "These artists represent a level of sophistication and talent on an international scale," says Cline.
The Maile is 5000sq.ft. The Lokelani is more than 4500 sq.ft.plus a 2400 sq. ft. outdoor living area and 2500 sq. ft. private lawn and garden. The Maile, named after the Hawaiian plant used to create leis for royalty and honored guests, is perched above Wailea Beach in the Oceanfront Tower. It is often referred to as a "palace in the sky." The Lokelani is situated on a lower floor and has its own expansive "front yard" – a spacious lawn and private outdoor garden – facing the Pacific.
The three-bedroom Maile Suite is sophisticated and stylish, accented by dashes of bright color, allowing the azure Pacific Ocean to take the lead. Guests enter into large and spacious living and dining rooms with a panoramic 180° view of the ocean. Framing the entry is a floor-to-ceiling screen of colorful geodes reflecting warm hues onto the stunning teak wood floors. "Fast becoming a signature element of the Maile, the interplay of refracted light against buttery wood tones changes the look and feel of the suite throughout the day," notes Wietzel. Understated grass cloth wall coverings complete the island ambience. But the understatedness stops here. Soft goods are fresh and introduce a sophisticated tropical palette. In addition to the bespoke furnishings, there is a service kitchen, fully integrated Sonos sound system, and a sauna and dressing room adjacent to the opulent master bedroom.
The three-bedroom Lokelani suite, deriving its name from the Hawaiian word for "heavenly rose," features a large private outdoor living space, furnished with sunning, lounging, exercising and dining areas and by two fire pit lounges with seating for up to 16 persons. The BraytonHughes team has skillfully arranged spaces to be enjoyed according to the time of the day – open air, under the night sky, and beneath an extensive hand-crafted pergola. A completely new private garden entry invites guests into the Lokelani. The suite décor is a fresh take on mid-century, with turquoise and orange splashes of color dancing off white furnishings. A dramatic circular tub is the centerpiece of the luxurious master bathroom. All in all, the suite achieves a refreshing feel of indoor/outdoor elegance with vivid art juxtaposed with creative and selected armoires, tables, lighting fixtures and other one-of-a-kind pieces. A game room and kitchenette are also included.
"These two suites offer every possible guest comfort. They also provide amenities to create a completely relaxing and memorable stay," says Wietzel. "It's all about style meeting comfort."
About Four Seasons Resort Maui
Maui's first and only Forbes Five-Star resort is nestled on 15 acres of the breathtaking Wailea Coast. The 380-room oceanfront property is world-renowned for its comfortable opulence, impeccable service, luxurious amenities, and for living in harmony with its environment and community. The resort in Maui is also home to one of the nation's top-rated spas committed to wellness and three of Hawaii's most acclaimed restaurants - Ferraro's Bar e Ristorante, Spago Maui and DUO, a premium steak and seafood restaurant. This sophisticated home away from home caters to the needs and interests of all generations offering world-class activities and one-of-a-kind Unforgettable Events, a museum quality art collection, three pools overlooking the azure-blue Pacific Ocean including an adults-only Serenity Pool with exclusive Missoni-designed cabanas, and more. Four Seasons Resort Maui is a Hawaiian vacation destination geared to action adventurers, those guests wishing to practice the fine art of doing nothing at all, and everyone in between.
Media Contact: Charlotte Novom | Novom Marketing, Inc. | 714.941.9799