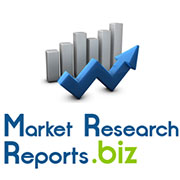 Frontier Pharma - Rheumatoid Arthritis: Identifying And Commercializing First-In-Class Innovation
Albany, NY (PRWEB) July 30, 2014
Frontier Pharma: Rheumatoid Arthritis Identifying and Commercializing First-in-Class Innovation". This highly competitive market is saturated with multiple targeted monoclonal Antibody (mAb) therapies and small molecules, yet more of these treatments are expected to enter the market over the next few years. Despite this, the current developmental pipeline is highly innovative beyond these me-too products and incremental innovations and promises a number of first-in-class products across all stages.
Browse full information about this report at http://www.marketresearchreports.biz/analysis/176667.
These new developments are driven by improvements in the understanding of signaling pathways and underlying disease mechanisms of Rheumatoid Arthritis (RA). These highly innovative products are expected to increase the diversity of available products, in terms of mechanism of action over the coming decade and are likely to have a significant impact on the dynamics of the clinical and commercial landscape. The market is also characterized by high activity in licensing and co-development deals. In particular, there is sustained commercial interest in pipeline biologic therapies with a range of molecular targets. There is also considerable interest in small molecule inhibitors of intracellular kinases despite their clinical performances not being as well established as biologics or mAbs.
Download detail report with complete TOC at http://www.marketresearchreports.biz/sample/sample/176667.
The report analyzes the RA pipeline and strategic alliance landscape with particular emphasis on first-in-class programs. A brief introduction to RA, including symptoms, pathophysiology, and an overview of the pharmacotherapy. Highlights of the changing molecular target landscape between marketed and pipeline products with particular focus on innovation. A comprehensive review of first-in-class pipeline therapies; the pipeline is analyzed by Phase distribution, molecule type, molecular target, and administration route. Identification and assessment of first-in-class molecular targets highlighting early-stage programs with clinical utility that has yet to be evaluated, as well as an in-depth literature review of novel molecular targets. Assessment of the licensing and co-development deals for RA therapeutics
View all reports in pharmaceutical at http://www.marketresearchreports.biz/category/38.
The report will assist business development strategies of companies who wish to develop RA therapies with improved benefits to existing treatments. In addition, this report will be of interest to companies seeking to expand pipeline portfolios through licensing agreements and co-development deals allowing them to Understand the overall focal shifts in therapeutic molecular targets of RA treatments
Identify first-in-class product development and understand the therapeutic and commercial prospects of first-in-class developmental programs based on available animal model data Assess the value of products benchmarked against licensed and co-developed therapeutic programs Spot first-in-class programs that are potentially available for licensing and co-development deals
Related Reports -
Regenerative Medicine Market (Bone And Joint) (By Technology - Stem Cell Therapy, Biomaterial And Tissue Engineering; By Applications - Bone Graft Substitutes, Osteoarticular Diseases, Allogeneic Products, Autogenic Products And Others) - Global Industry Analysis, Size, Share, Growth, Trends And Forecast, 2013 - 2019
U.S. National Institute of Health stated that regenerative medicine is the process of creating functional tissue to repair and replace tissue or organ which has lost their function due to damage, congenital defects, disease and age. Moreover, it has included stem cell therapy, tissue engineering and biomaterial under the umbrella of regenerative medicine. Regenerative medicine has wide areas of application such as cardiovascular, neurology, orthopedic and musculoskeletal diseases and disorders. The global market for regenerative medicine bone and joint application is dominated by various bone graft substitute in 2012. However, it is expected that tissue engineering will become a lucrative market in future. Factors such as growing geriatric population, favorable government support and increasing bone and joint reconstructive surgeries accentuate growth of the global regenerative medicine bone and joint application market.
View full report with complete TOC at http://www.marketresearchreports.biz/analysis/138710.
Biological Drugs Market - Global Industry Analysis, Size, Share, Growth, Trends And Forecast, 2014 - 2020
Biological drugs are typically derived from living cells and are used in the treatment and prevention of various diseases such as cancer, blood-related diseases, auto-immune diseases and other medical disorders. Biological drugs include therapeutic proteins, monoclonal antibody (mAb) and vaccines. The biological drugs market is growing due to the increasing prevalence of chronic diseases and the demand for biological drugs is growing due to the increase in the global geriatric population. Moreover, various government associations are also supporting in growth of biological drugs market. Furthermore, advancement in biomedical sciences holds immense potential for the growth of the biologic drugs market.
View full report with complete TOC at http://www.marketresearchreports.biz/analysis/177969.
About Us
Marketresearchreports.biz is the most comprehensive collection of market research reports. Marketresearchreports.biz services are especially designed to save time and money of our clients. We are a one stop solution for all your research needs, our main offerings are syndicated research reports, custom research, subscription access and consulting services. We serve all sizes and types of companies spanning across various industries.
Market Research Articles at https://www.linkedin.com/today/author/173774513