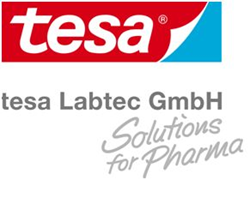 Langenfeld, Germany (PRWEB) July 27, 2014
With an investment of about 1 million USD, tesa Labtec has closed the gap between small-scale development and large-scale production. The new facility at the R&D site in Langenfeld, Germany, houses state-of-the-art pilot-scale production equipment operating under full cGMP conditions and enables an output of thousands of primary packed patches or films per hour. "Still much smaller than our routine manufacturing facility, we can now offer our customers and partners top-quality production services during the lab phase of development, which is unmatched by our competitors," explains Dr. Ingo Lehrke, Managing Director of tesa Labtec. Producing large quantities of patches and films without any transfer will shorten development times, save development costs, and minimize risks, since Critical Process Parameters can now already be evaluated during development phases. While batch sizes of as little as 1 kg of wet coating mass can be processed to fulfill low-volume sample requirements, the new LabFactory is also able to produce sufficient volumes of patches and films to supply even large Phase II clinical trials directly from the R&D site.
"We have seen a very positive response from customers," says Dr. Armin Breitenbach, Director of Pharmaceutical Development, "not only due to our speed of development together with our flexibility and transparency, but also through the unmatched and unique level of services that we are now able to offer with our new LabFactory."
With a scientific symposium and opening event, the new facility was recently showcased to partners and representatives from the pharmaceutical industry and regulatory authorities. Featuring talks by two world-leading academic experts – Prof. Dr. Jörg Breitkreutz (University of Düsseldorf) on orodispersible dosage forms and Prof. Richard Guy (University of Bath) on transdermals and topicals – and live demos of the LabFactory and other development capabilities of tesa Labtec, a lot of interest was generated among the 50 industry experts from companies such as Bayer, Grünenthal, Sandoz, and Mundipharma.
___
About tesa Labtec GmbH:
With more than 20 years of experience, tesa Labtec is one of the leading drug delivery companies for film-based dosage forms like patches and oral films. Based on its innovative Transfilm®, Rapidfilm®, and Mucofilm® technologies, the company offers contract development and state-of-the-art contract manufacturing for transdermal and topical patch products as well as oral dissolvable and transmucosal films. tesa Labtec is a wholly owned subsidiary of tesa SE, a member of the Beiersdorf group of companies, and represents the pharmaceutical business in a truly global family of companies offering "Solutions for Pharma."
For press releases and other company information visit: http://www.tesa-labtec.com.