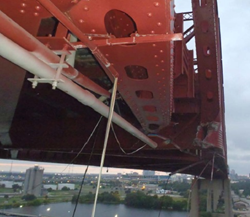 Nearly a year later, it's encouraging to see the outcome of our labor being continually honored with all of these prestigious awards.
Jacksonville, FL (PRWEB) July 25, 2014
The John E. Mathews Bridge, spanning the St. Johns River in Jacksonville, Florida, was severely damaged by ship impact in late September 2013. HNTB Corporation was called to be part of the repair team for the span's rapid rehabilitation that October. As of today, the project has been honored with eight industry awards and is nominated for several more.
Most recently, the project received the American Public Works Association's Project of the Year Award in the Disaster or Emergency Construction/Repair category, as well as the organization's local and state honors. These awards will be presented at the annual APWA Awards & Recognition Ceremony Aug. 18 in Toronto.
After the bridge sustained severe truss damage when struck by a passing cargo ship in September 2013, the Florida Department of Transportation's district construction engineer contacted HNTB's Thomas Woods, PE, North Florida regional leader for construction engineering and inspection, with a request to lead construction engineering services for the repairs.
From the outset, FDOT staff and contractors were asked to work and plan aggressively to open the bridge ahead of the 40-day deadline specified in the contract, providing a $50,000-a-day incentive for opening the bridge early. The repairs were completed ahead of schedule and the bridge reopened four days before the deadline.
Woods said he believed HNTB's previous knowledge of and involvement with the bridge helped establish the firm's position as the leading candidate to oversee and manage its repair.
"Because of our previous experience leading successful projects on the Mathews Bridge, FDOT had confidence in asking HNTB to provide lead construction engineering services for the repairs, and they knew I was only a phone call away," Woods said. "Nearly a year later, it's encouraging to see the outcome of our labor being continually honored with all of these prestigious awards."
Other awards earned by the Mathews Bridge project include the:

Florida Transportation Commission Excellence in Production of Work Award
American Society of Highway Engineers Eweek award
Florida Institute of Consulting Engineers/Florida Department of Transportation's Outstanding Project Award – Minor Project
Institute of Transportation Engineers' Transportation Achievement Award – Facilities Category
Florida Transportation Builders Association's Best in Construction Award – Partnering
A short video documentary, "In the Blink of an Eye," is available to view on Vimeo and the HNTB newsroom.
About HNTB
HNTB Corporation is an employee-owned infrastructure solutions firm serving public and private owners and construction contractors. Now celebrating a century of service in the U.S. and 60 years in Florida, HNTB continues to grow in size and service offerings to clients from 13 regular office and on-site locations, currently employing approximately 380 full-time professionals. HNTB understands the life cycle of infrastructure and addresses clients' most complex technical, financial and operational challenges. Professionals nationwide deliver a full range of infrastructure-related services, including award-winning planning, design, program delivery and construction management. For more information, visit http://www.hntb.com.