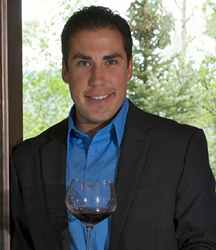 I trust his past successes and professionalism are indicators of his future, and we are lucky to have him, says Benchmark Wine Group's CEO David Parker.
Napa, CA (PRWEB) July 28, 2014
Napa-based Benchmark Wine Group is privileged to announce Lucas Jones as the West Coast Director of Business Development. Jones brings an extensive professional network, vast fine wine knowledge and enthusiasm to the industry's leading wine ecommerce company. Owner and CEO, David Parker, knows this partnership will be one of longevity and prosperity.
"Benchmark Wine Group recognizes a good thing when we see it, and Jones is our man for the job," says Parker. "Jones has a captivating, proactive and positive leadership style that uniquely fits our corporate culture. His passion for achievement will enrich our national presence. I trust his past successes and professionalism are indicators of his future, and we are lucky to have him."
As a certified Sommelier through the Court of Master Sommeliers, Jones undeniably has the knowledge. He brings a decade of experience sourcing, buying, selling, and managing collections of the world's fine and rare bottles. Most recently he oversaw the collector services division for Italian Wine Merchants along with operating their fine wine retail shop out of Aspen, CO.
Jones' responsibility will be to develop business relationships in the Midwest, West, and Southwest. He will source cellars and grow national recognition of Benchmark Wine Group through events, non-profits and corporate partnerships.
About Benchmark Wine Group:
Established in 2002, Benchmark Wine Group acquires and sells fine and rare wine to and from retailers, restaurants and collectors. The premier online source for the world's top wines at market leading prices – Lafite, Petrus, Leroy, Krug, Sine Qua Non and Opus One – just to name a few! The Napa-based company draws on decades of collective wine industry experience to obtain the most sought-after wines in the world from private individuals and professional contacts. Benchmarkwine.com offers 24-hour access to the 30,000-bottle wine cellar, displaying inventory in real-time.