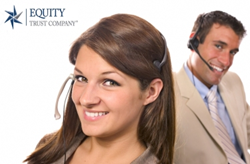 Sioux Falls, South Dakota (PRWEB) July 29, 2014
A growing financial company is seeking motivated, friendly Sioux Falls-area job seekers to fill customer service positions that offer continuous education opportunities and regular working hours.
Equity Trust Company, a leading custodian of non-traditional investment accounts, has 15 open call center positions on its South Dakota customer service representative team.
The representatives handle telephone calls from existing clients, opening their eyes to nearly endless investment opportunities. Essential skills and abilities include excellent client interaction and customer service skills, attention to detail and excellent phone etiquette. Prior client service experience is a plus.
While many companies' call centers require employees to work odd hours due to 24-hour operation, Equity Trust representative's shifts run Monday through Friday, 8:00am to 5:00pm. Equity Trust employees enjoy an excellent benefits package as well.
Candidates are not required to have prior expertise in the retirement account industry; employees go through on-the-job training to learn the position. The training class for the 15 new hires begins September 8.
Recruiters will be scheduling live candidate interviews August 4-6, after the candidate clears an initial phone screening. Candidates can view the job listing, as well as apply for the position, at http://www.TrustETC.com/careers.
For more details on open positions at Equity Trust and what it's like to work at the company, visit the above described website or email careers(at)trustetc(dot)com.
About Equity Trust Company
Equity Trust Company, with its corporate headquarters in Cleveland, Ohio and operations in Sioux Falls, South Dakota, is at the forefront of the self-directed retirement plan industry. The company specializes in the custody of alternative assets in self-directed IRAs, Coverdell Education Accounts, Health Savings Accounts and qualified business retirement plans. Along with its affiliates, Equity Trust provides services to more than 130,000 individuals and businesses nationwide with $12 billion in assets under custody. Since 1974, the company and its affiliates have helped investors make tax-free profits through education, innovation, and a commitment to understanding individual needs. Visit http://www.TrustETC.com for more information.
##