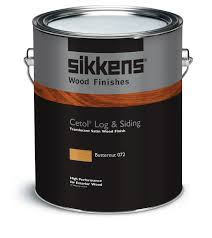 Free Shipping on 5 Gallon Pails for a Limited Time
Livonia, MI (PRWEB) August 23, 2014
The Stain Depot is an authorized online Sikkens stain dealer that is now offering free shipping on Sikkens Cetol stains. Tired of looking for the best deck stains? Sikkens stains are available in a wide variety of colors and product lines not found in big box stores. The Stain Depot is a fast and easy way to find all of the Cetol product lines and colors. The Stain Depot has a large inventory of all the colors and has them on the UPS truck by 5:00 PM EST every day. Cetol SRD deck stains offer advanced protection for wood by preventing UV oxidation, water absorption, mold, and mildew. Cetol 1 and 23 Plus are film forming stains that last for several years. SRD stain is preferred by contractors because of its penetrating formula and easy removal.
The Stain Depot is the only dealer to offer 1/4 pint samples of the popular Cetol SRD, Cetol 1, and Log & Siding stain. SRD series stain original formula is still available to ship in Michigan and other non-voc states. SRD RE series stain is available in the voc states such as Ohio and New York. You will not find the 550 voc original version or the Cetol 1-2-3 system at Home Depot. Contractors that use the Cetol SRD stain will be able to quickly tell the difference between the RE and the original formula.
For a limited time, The Stain Depot will be offering free shipping on all 5 gallon pails of Sikkens stain. Most residents in Michigan, Ohio and Pennsylvania will receive their order the next day. Illinois, Missouri, New York, and New Jersey residents receive orders in 2 days, if you order by 4pm EST. Sikkens Cetol Srd stain is very popular with Michigan deck owners and very hard to find unless purchased online. Log & Siding stain is regarded as the best coating for log homes. Contractors or homeowners looking to order over 25 gallons will receive a discount on the stain, but need to call first.
The Stain Depot has a huge inventory of all the colors and ships all orders before 4:00 PM EST. Either order online or call (313) 242-1000.
The Stain Depot is located in the Metro Detroit, Michigan area, directly across the border from Essex County, Ontario, Canada. The Stain Depot stocks only top rated deck stains like, TWP, Sikkens, Messmers, Rymar, Duckback Superdeck, and Olympic.