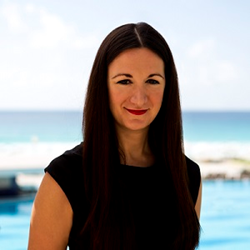 Royal Resorts has operated for nearly forty years in Cancun and Riviera Maya, selling close to 85,000 memberships to residents from 51 countries.
Orlando, FL (PRWEB) July 31, 2014
Royal Resorts, a standout in Mexican tourism and leader in the international vacation ownership industry, is delighted to announce the appointment of Christie Griffiths as its new VP of Marketing overseeing initiatives at both Royal Resorts and Grand Residences.
Royal Resorts is comprised of six resorts across the tourist destinations of Cancun and the Mayan Riviera, with Grand Residences being its newest addition. Now with Griffiths on board, focus is to increase marketing efforts to a new level through continued enhancement of its overall strategy.
Griffiths was born in Carmarthenshire, Wales and studied performing arts, business and marketing in the United Kingdom. She first began working in the vacation ownership industry in Greece and from there proceeded to work for a series of major brands including Sol Meliá Vacation Club and Starwood Vacation Ownership, most recently serving as the Director of Marketing with Starwood Vacation Ownership in Mexico. Her experience is deep and broad and includes spearheading marketing and operations for new resorts and the integration of hotel operations with vacation club programs.
In her new role Griffiths will be responsible for overseeing all marketing programs including in-house and off premises marketing efforts such as fly-buy/mini vacation, telemarketing and street/airport programs at both Royal Resorts & Grand Residences.
"We are thrilled to have Christie on board. Her wealth of experience in marketing operations, human resource development and relationship management will help us move the company into a new stage of customer acquisition and relationship evolution," says Simon Crawford Welch, PhD, RRP, Chief Sales and Marketing Officer, Vacation Ownership, at Royal Resorts. "Griffiths' strategic planning and execution strategies paired with her charismatic leadership approach projects a recipe for success within the Royal Resorts team," continued Crawford-Welch.
Royal Resorts has operated for nearly forty years in Cancun and Riviera Maya, selling close to 85,000 memberships to residents from 51 countries. Independent surveys of members report a 97 percent satisfaction rate, one of the highest ratings received in the vacation ownership industry worldwide.
For more information about Royal Resorts please visit http://www.royalresorts.com.
About Royal Resorts
Founded in 1975, Royal Resorts is a pioneer in the Mexican tourism industry and now has four beachfront resorts in Cancun: The Royal Cancun®, The Royal Caribbean®, The Royal Islander® and The Royal Sands® and one in Playa del Carmen, The Royal Haciendas®, located at the heart of the Riviera Maya. The latest member of the Royal Resorts collection is Grand Residences by Royal Resorts®, a luxury beachfront resort to the south of Puerto Morelos. The first phase opened on December 7, 2013 and the property is affiliated with The Leading Hotels of the World®. All the Royal Resorts offer spacious fully equipped suites and an array of five-star amenities and activities.