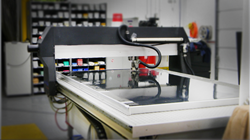 "The cutting board client now has additional selling points with J.M. Field Marketing's new in-house laser equipment at work." Joni Kullgren, Senior Design Manager
Fort Lauderdale, FL (PRWEB) July 29, 2014
J.M. Field Marketing will work alongside a cutting board client to provide fully custom laser engraved cutting boards. This new development with the client will continue J.M. Field Marketing's goal to provide a seamless integration of custom ecommerce fulfillment to its clients.
J.M. Field Marketing, a full-service marketing firm based within the South Florida Region, is pleased to announce their help in designing the custom template for the in-house laser engraving equipment that will provide full customization of cutting boards in the celebrity chef's line. The latter product and ecommerce fulfillment of the cutting boards will be managed by J.M. Field Marketing's patented, ecommerce software.
The cutting boards from the celebrity chef will be available online at the existing cutting board client's website. All cutting boards within the line are made from raw, teak materials. The exotic tropical hardwood provided by the teak tree provides beautiful hued wood patterns to each of the cutting boards. The added functionality and custom engraving by J.M. Field Marketing will multiply the existing features in the realm of cutting board design. These customized cutting boards will be great to give as memorable gifts for the holidays and other special occasions. The cutting boards can also be used with custom restaurant logos.
"The cutting board client now has additional selling points with J.M. Field Marketing's new in-house laser equipment at work. Cutting boards can be customized for a gift, for commercial use or any special occasion like a wedding," Joni Kullgren, Senior Design Manager
Patented software, adapted to the specific needs of the celebrity chef's line of cutting boards, accounts for the user's ability to customize, and will send each order to J.M. Field Marketing's inventory management system for processing, engraving and the later pick pack ship of each cutting board. The client's website design and inventory management software installation will lend simplicity to the overall user experience in purchasing, customizing and receiving their cutting boards.
The adaptability of the patented, ecommerce software can easily be installed to the backend of any client website and will be programmed to fulfill every purpose the client is looking to provide. This specific ecommerce software installed to the cutting board client website will allow customers to add initials or a logo to the cutting board of their choice. The design can be burned, etched or engraved on to the board with J.M. Field Marketing's in-house laser equipment. The nature of this specific online customization is the first of its kind for the cutting board manufacturer and J.M. Field Marketing.
About J.M. Field Marketing
J.M. Field Marketing offers a seamless integration of marketing solutions, from design and printed collateral to marketing materials, product fulfillment, web-based inventory management, data collection, inventory systems and call center services. The company's mission is to work as a direct extension of its clients' brand – providing the services every business needs to help increase revenue in today's competitive market. With over 205,000 square feet in storage capacity, J.M. Field Marketing's pick and pack services provide assistance and advantages to our clients in materials production, online order processing and web-based inventory management. J.M. Field Marketing's clients include the banking industry, travel industry, entertainment industry, security industry, hair care products and more.