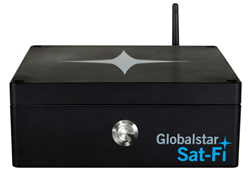 (PRWEB) July 28, 2014
The GPS Store is one of the largest retailers of specialty electronics on the web, offering a wide range of marine, automotive and outdoor electronics at competitive prices. Continuing in their tradition of supplying the latest in advanced communications technology, The GPS Store is now stocking the long-awaited Sat-Fi Satellite Hotspot by Globalstar. Going beyond cellular, Sat-Fi provides connectivity in areas outside the range of standard service.
Sat-Fi Hotspot technology relies on a modern network of satellites, creating the ideal connectivity hub for up to eight Wi-fi-enabled devices to send and receive voice calls, email and text messages. The system uses the standard 10-digit dialing protocol for voice communications, allowing for superior connectivity and fidelity while in a remote area. Monitoring email and SMS also feels natural due to Sat-Fi's top-of-line data speeds among comparable devices. The device can be used in vehicles, vessels or fixed-site locations.
The Globalstar Sat-Fi Hotspot is especially useful for those who need a way to stay connected in remote areas at sea or deep in the wilderness. Apart from the various benefits for marine use, other areas that stand to benefit from Sat-Fi include emergency services, park services, long distance transportation services, construction, energy and gas.
As an authorized reseller of Globalstar products, The GPS Store offers the Sat-Fi units for under $1000 with a waived $50 activation fee for a limited time. In-house experts in GPS technology provide free consultation and installation support while monthly contracts start at a low $24.99.
About The GPS Store:
The GPS Store Inc., was founded in 1997 as a retailer of specialty marine, automotive and outdoor electronics. The store aimed to do a better job at customer service, starting with maintaining an extensive inventory of GPS and GPS-related equipment, outdoor gear, accessories and marine electronics. The company is based in Ocean Isle Beach, North Carolina. For cost efficiency, the campus includes all the store's services in one location, including the retail showroom, customer service center, sales center, warehouse and fulfillment centers.
About GlobalStar:
GlobalStar specializes in the design and manufacture of satellite communication devices, including the Sat-Fi Hotspot. The company is based in Covington, Louisiana.