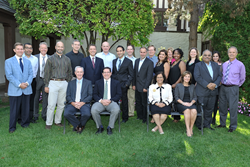 "This donation helps Oakwood lead the way in providing high-quality, innovative and compassionate care to the community."
Dearborn, Michigan (PRWEB) July 28, 2014
The Oakwood Foundation celebrated a major gift this week from Drs. Harris, Birkhill, Wang, Songe and Associates, PC that will benefit each community we serve for years, generations and countless tomorrows to come.
The HBWS group is among the Foundation's largest physician donor group, responsible for more than $2.5 million in donations. Through their latest gift, they will be one of the title sponsors for the Oakwood Women's Healthcare Classic for the next 6 years; provide state-of-the-art technology and equipment to provide superior care for women's health; and continue to provide advanced education and medical training to radiology staff, ensuring that Oakwood can recruit, train and retain the best clinicians in the region.
"By supporting these initiatives, these generous physicians will continue to make a lasting impact on patient care in our community," said Carla O'Malley, executive director of the Oakwood Foundation. "We are truly grateful for this gift and our long partnership with this esteemed group of physicians."
Radiologist Donald Conn, MD, said that HBWS increased their philanthropic efforts after learning of the Give Tomorrows campaign, an ambitious fundraising drive announced by Oakwood.
"As physicians, we've always believed in the importance of giving back to the communities we serve," he said. "This donation helps Oakwood lead the way in providing high-quality, innovative and compassionate care to the community. We are happy and proud to do our part."