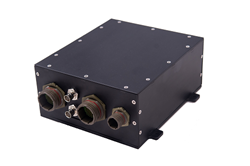 Richland Technologies and Intelligraphics will be demonstrating the ORCCA Multi-Purpose Avionics Computer in Imagination Technologies' booth #915 at Siggraph 2014 August 12-14 in Vancouver BC, Canada.
Vancouver, Canada (PRWEB) August 01, 2014
Richland Technologies designed and built their innovative ARM-based ORCCA avionics computer to satisfy the severe Space, Weight and Power (SWaP) requirements of the aviation industry. The CortexTM-A9-based ORCCA platform offers multi-core, dual redundant, low-power, high-performance processing and graphics capability, with flexible I/O configurations. Avionics applications require high quality graphical user interfaces, including video overlay, without dissipating the high levels of heat that are typical of discrete Graphics Processing Units (GPU). The peak power dissipation of the entire ORCCA computer system is under 10W. Enablement of the Imagination Technologies SGX 540 GPU in the OMAP processor now allows application developers to easily host photorealistic OpenGL ES1.1, OpenGL ES2.0 and OpenGL SC applications on the ORCCA platform using Intelligraphics' operating system independent OpenGL driver. The ORCCA platform has been designed from the ground up to easily and cost effectively achieve DO-178C and DO-254 certification.
About Richland Technologies
Richland Technologies (RTL) is an innovator in the field of high performance, small form-factor, safety critical and cost effective embedded systems for the commercial and defense aviation industries. RTL leverages a creative portfolio of disruptive technologies to make leading edge applications available to cost sensitive pilots and system operators. RTL offers a comprehensive portfolio of engineering and management services focused on projects requiring DO-178B/C and DO-254 certification. For more information, visit http://www.richlandtechnologies.com.
About Intelligraphics
A recognized leader in the graphics industry since 1991, Intelligraphics custom software can be found in security solutions used by law enforcement and the government, ruggedized equipment for our troops, secure controls used by industry, medical imaging and metering devices, cockpit display instrumentation, and GPS based navigation systems. An engineering staff experienced on a wide variety of GPUs, operating systems and platforms, can trouble shoot most any problem, generate bids for end-to-end projects, or add senior-level manpower to an existing product development team.
For additional information, visit http://www.intelligraphics.com.