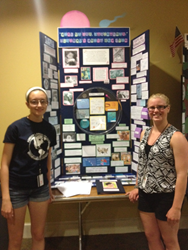 It's important for people to understand how influential IVF has been on society.
Boston, MA (PRWEB) July 29, 2014
The prestigious "Discovery or Exploration in History Award" from the Library of Congress was recently awarded to Juliana Hillis and Kaylie O'Connell, students at Stoneham High School in Stoneham, MA, for their project, "From an Egg, Everything: America's First IVF Baby". This project was chosen from among 3,000 final entries for the National History Day program during a week-long final competition judged by more than 300 historians and educators in Washington, D.C.
The growing popularity of the assisted reproductive technology (ART) known as in vitro fertilization or IVF, which assists with fertility for those who are unable to conceive and carry a baby to term on their own, provided a subject rich in examples supporting the theme of this year's competition "rights and responsibilities in history." The extensive research the students conducted uncovered insights and interpretations into many different legal, social and ethical issues associated with this innovative and relatively new reproductive medicine practice.
"With infertility affecting up to 15% of couples, it was great to participate in Juliana and Kaylie's project highlighting the advances that have been made in fertility treatment over the past 35 years since the birth of the first IVF baby. It is very fitting that they won the "Discovery or Exploration in History Award" as they did an excellent job raising awareness of an important discovery that has now resulted in the birth of more than 5 million children worldwide," commented Dr. Samuel Pauli, Reproductive Endocrinologist and project resource at Reproductive Science Center of New England in Lexington, MA.
After months of intensive research, including interviews with Elizabeth Carr, the first baby born utilizing IVF, Dr. Howard Jones, the founder of the clinic where Ms. Carr was conceived, Amy Altman, a reproductive attorney, and several IVF experts at Reproductive Science Center of New England where Juliana's mother Linda Hillis works, including Dr. Samuel Pauli, Paula Dwan, RN, and Donna Cunningham, senior embryologist, their findings were presented via an interactive exhibit.
Juliana and Kaylie summarized their project research as follows: The rights and responsibilities associated with IVF and the birth of Elizabeth Carr can be condensed into three major categories: legal, social and ethical. Despite the fact that the Constitution acknowledges the right to procreate as a fundamental right, the government has lacked widespread legislative and monetary support for ART. This raises the question of whether it should be a responsibility of the government to provide assistance to those in need of fertility treatment. Also, advances in reproductive technology now allow up to five people to be involved in fertility treatment, and have extended these opportunities to same-sex couples, which has ultimately redefined the traditional definition of family. Furthermore, the ability of infertile women to receive treatment represents an expansion of women's reproductive rights and a success in the feminist movement. Finally, religious views or moral beliefs about the ethics of IVF have generated opposition, especially by the Catholic Church. This puts patients in the position to have to choose between being a responsible religious participant and fulfilling their desire to have a child through infertility treatment.
The students were thrilled to receive this esteemed recognition, and Juliana Hillis stated, "I'm glad that Kaylie and I were able to raise awareness about both the scientific aspects of IVF and the history behind the technology. We think it's important for people to understand how influential IVF has been on society since the birth of Elizabeth Carr, and I believe we succeeded in establishing that fact."
Juliana and Kaylie have been invited to present their exhibit at the 94th Annual National Council for Social Studies conference being held in Boston this fall. This conference is intended to share the most current knowledge, ideas, research, and expertise in social studies education.