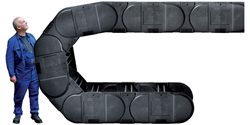 East Providence Rhode Island (PRWEB) July 30, 2014
Plastics expert igus will be showcasing a variety of energy supply systems for coal-fueled power plants. Located in booth 303 in Nashville, Tennessee's Music City Center, igus technical staff will be on hand to answer questions about the range of products on display, namely heavy-duty cable carrier systems and reliable cable solutions for the industry.
Reliably supplying energy in rough environments
At the show, igus will be showcasing and demonstrating alternatives to bus bar, cable reel, and steel chain systems. igus Energy Chain Systems® provide affordable, durable, and readily available solutions that are proven in rough applications like those in the coal industry. With our global network of igus locations, we can provide onsite support for our customers in short order, and with our experience and advanced testing capabilities we can design custom solutions for complicated and demanding applications. Both the E4/4 HD (Heavy Duty) and E4.1 product lines will be on display as well as the E4.350, the largest plastic cable carrier in the world. igus technical staff will be happy to discuss how their broad range of products can be applied for increased production and decreased downtime. They can also schedule site visits for consultation and recommendations.
Continuous-flex cables now with guarantee program
Available with various certifications and ratings, igus' line of Chainflex® cables are available, and now with optional membership in the Chainflex Guarantee Program. Available with all cataloged Chainflex cables, the program offers 3 levels of guaranteed cable protection, up to 36 months/10 million cycles. Chainflex cables are specially designed to operate reliably with little downtime. With more than 2 billion test cycles completed per year in the Chainflex laboratory, igus has a unique database of cables for use in Energy Chains, used to develop the basics rules of extremely durable cables.
All of these, and a variety of other solutions such as the PPDS push/pull force detection system, will be on display in the igus booth, #303 in the City Music Center, Nashville, TN, August 20-22. To get a free pass to Coal-Gen from igus, or to schedule an appointment with an igus staff member, please visit the igus trade show page at http://www.igus.com/fairs.
About igus®
igus® develops industry-leading Energy Chain® cable carriers, Chainflex® continuous-flex cables, DryLin® linear bearings and linear guides, iglide® plastic bushings, and igubal® spherical bearings. These seemingly unrelated products are linked together through a belief in making functionally advanced, yet affordable plastic components and assemblies. With plastic bearing experience since 1964, cable carrier experience since 1971 and continuous-flex cable since 1989, igus provides the right solution from over 80,000 products available from stock. No minimum order required. For more information, contact igus at 1-800-521-2747 or visit http://www.igus.com.