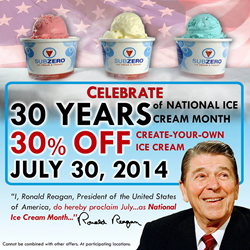 Provo, UT (PRWEB) July 29, 2014
In 1984, President Ronald Reagan declared July as National Ice Cream Month, and to commemorate the 30th anniversary of that declaration, Sub Zero is offering its customers 30% off on Wednesday, July 30th.
Sub Zero Ice Cream offers customizable ice cream or yogurt, allowing you to sit back and watch them freeze your ice cream right in front of you. Using liquid nitrogen, Sub Zero freezes your personal creation in seconds, offering any combination of liquid cream, flavors, and mix-ins you desire.
"National Ice Cream Month is a great excuse to take the family and enjoy some ice cream in the hot summer month of July," says Sub Zero marketing intern, Ashlie Lewis.
This offer will be available in all locations of Sub Zero Ice Cream. This offer will be valid for all customized ice cream creations of all sizes. It does not, however, extend to the Sensations or other products.
For more information, feel free to visit Sub Zero's website, subzeroicecream.com.