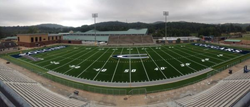 If I'm a kid and I get to play on a surface like the Shaw Sports Turf field, it says that this program is important and there must be great things going on at this school.
Clay, Alabama (PRWEB) July 29, 2014
Clay-Chalkville High School is completing installation of a new synthetic turf playing field from Shaw Sports Turf.
The school, which previously played on grass, will have the new field completed in time for the fall sports season. The installation of the synthetic turf is a joint venture and partnership between the Jefferson County Board of Education and the City of Clay.
"This is a community-wide project," said Dr. Rafael McDaniel, Director of New Construction for the Jefferson County School System. "The field project offers multi-dimensional benefits. It is a way to bring the schools and community together; it provides an additional resource for our students and the community. Overall, it will prove to be an extremely valuable asset."
The board of education selected Shaw Sports Turf's Classic system for the project as a result of a highly competitive bid process.
"We're excited to be a part of this project," said Wynn Vinson, Territory Manager for Shaw Sports Turf. "It's very rewarding to be able to provide a state-of-the-art product that benefits kids and the community as a whole."
Fast, dense and firm, Classic is a premium high performance synthetic turf system designed with Tapeslide XP fiber to maximize player performance and speed. Classic is designed to be exceptionally durable to meet the demands of high-use fields.
"We believe the durability of the field and the ease of maintenance make Shaw Sports Turf the right choice," said McDaniel. "If we had the funds, we'd probably convert all of our fields from grass to synthetic turf."
McDaniel said the field will be used for football, soccer, and band practice. It will also be used for the school's future lacrosse program in addition to other community sports activities and events.
"From a practical standpoint, it provides a surface we can use at any time and it can withstand a great deal of play," said McDaniel. "It also provides a source of pride for the students boost for the students in their extracurricular programs such as athletics and band and for community events."
The turf field will provide additional opportunities to host more events, and Head Football Coach Jerry Hood, Athletic Director for the school, believes the field can generate enough revenue to repay the cost within five-to-six years.
Coach Hood is also excited about the prospects for the new field.
"We can utilize the Shaw Sports Turf field more often and spend more time coaching our kids," said Hood. "It frees up other spaces around campus for other kids to do things as well."
Hood says the team's skill players will utilize the turf right away for practice, while linemen who use sleds during practice will stay on a grass surface.
Hood said the new turf improves the appearance of the stadium complex and instills a new element of pride in the program.
"If I'm a kid and I get to play on a surface like the Shaw Sports Turf field, it says that this program is important and there must be great things going on at this school," he said.
The field will be complete August 4 and a ribbon-cutting ceremony is scheduled for the next day. The Clay-Chalkville Cougars will open the football season on the new Shaw Sports Turf field on August 29 against Minor High School.
About Shaw Sports Turf
A wholly-owned subsidiary of Berkshire Hathaway Inc., Shaw Industries is a full flooring provider to the residential and commercial markets. Shaw supplies carpet, hardwood, laminate, resilient, and tile/ stone flooring products as well as synthetic turf. Shaw Sports Turf is one of the leading synthetic turf companies in North America and has represented quality and innovation for more than two decades with over 1,500 successful installations, including an impressive list of high-profile field installations. For more information, please visit http://www.shawsportsturf.com, call 866-703-4004 or find us on Facebook.