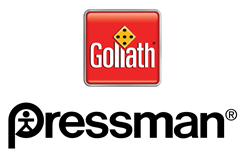 - New York, USA and Hattem, The Netherlands (PRWEB) July 29, 2014
Pressman Toy Corporation and Goliath B.V. announced today that Goliath has acquired Pressman. With products sold in nearly every major retailer, the combination of Pressman and Goliath creates one of the largest toy and game companies in North America.
Goliath and Pressman have a long history of creating great products together. This acquisition will support a shared vision for ambitious growth, and a commitment to develop and market toys that delight children and adults.
Founded in 1922 by Jack Pressman, Pressman Toy Corporation is an industry leader that has generated billions of dollars in retail sales. A few of Pressman's many hit games include Who Wants to Be A Millionaire, Deal or No Deal, MASTERMIND, and Let's Go Fishin'.
Goliath was founded by Adi Golad in 1980 and has grown to be one of the most influential toy companies in the world, with top-selling toys and games such as Pop the Pig and Doggie Doo. Goliath has offices in the Netherlands, France, Germany, Belgium, Spain, Portugal, Poland, Hong Kong, Australia, Canada and the USA.
As Jim Pressman notes, "Pressman and Goliath have a great history of working together to globally build popular brands such as Gooey Louie, Domino Rally, Tri-Ominos, and Rummikub. I could not have found a better partner than Goliath." Adi Golad remarked, "Jim has been my close friend for decades, it's an honor to carry on the Pressman brand. I couldn't be happier."
Both Pressman's and Goliath's brands are well known in the marketplace and will continue as separate entities. Pressman will continue to develop its own products and maintain its brand while enjoying the benefit of Goliath's significant global resources, including R&D, purchasing and national and international TV campaigns.
Jim Pressman will continue as President of Pressman Toy Corporation, a position he's held for 35 years, while overseeing licensing for both companies globally. David Norman will continue as President of Goliath Games, LLC.
-END-
About Pressman Toy Corporation Pressman Toy Corporation, the third largest game manufacturer in the United States, was founded in 1922. The company has released many strong brands that consumers have enjoyed for generations, such as Rummikub, MASTERMIND and Tri-Ominos. One of the first companies in the industry to begin licensing popular characters and content for toys and games, Pressman Toy has created games and puzzles based on Skylanders, Elf on the Shelf, How to Train Your Dragon 2, Goodnight Goodnight Construction Site, Diary of a Wimpy Kid, Curious George, Hello Kitty, and Scooby-Doo! as well as popular games shows Deal or No Deal, Jeopardy! and Wheel of Fortune. For more information, please visit http://www.pressmantoy.com
About Goliath Games According to industry reports, Goliath Games is the fourth-largest children's game manufacturer in North America. Adi Golad started Goliath in the Netherlands in 1980 fueled by his passion to bring new toys to the market and today Goliath sells products in more than 75 countries with direct distribution in Netherlands, France, Germany, Belgium, Spain, Portugal, Poland, Australia, Canada and the USA. On July 4, 2008, Goliath opened its US subsidiary, headed by board game guru David Norman, and has been entertaining children and adults ever since. For more information, please visit http://www.goliathgames.us