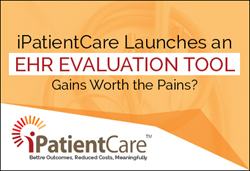 We are poised to deliver this evaluation tool to care providers. It is a sustained effort to gain maximum value from the daily workflow that drives the healthcare. - John Bartley, Chief Medical Officer, iPatientCare
Los Angeles, CA (PRWEB) July 30, 2014
iPatientCare, Inc., a pioneer in mHealth and cloud based ambulatory EHR, announced the launch of an EHR evaluation tool. This easy to use tool has been created by physicians for physicians to focus on usability, interoperability and credibility of an EHR.
The healthcare industry is in a major period of transformation. Defining the right EHR solutions that can improve clinician productivity, empower patients to improve their health, and address the need to complement existing EHR systems is critical. The role of EHRs in patient care is evolving significantly as adoption is incentivized, health information exchanges operationalized, an important aspect here is how easily care providers can use it to provide patient centric care. Electronic health records that are usable have the potential to improve patient care.
iPatientCare's leadership in the field of Ambulatory and Inpatient EHR market space encouraged them to develop most suitable EHR evaluation tool that can guide care providers to evaluate their current stage of EHR with respect to usability, Interoperability and credibility, which are the most important aspects of an EHR.
"We are poised to deliver this evaluation tool to care providers. It is a sustained effort to gain maximum value from the daily workflow that drives healthcare," John Bartley, Chief Medical Officer, iPatientCare. "We believe if an EHR is not developed or implemented considering the needs of usability, this can result into significant drop in productivity, and it is associated with financial impact even though you have a set workflow. Our innovation will help transform care delivery to achieve improved clinical productivity and satisfaction outcomes."
Jackline Olivera, Client Services, iPatientCare commented, "The healthcare IT industry has achieved great strides in EHR credibility. iPatientCare, being certified for 2014 ONC-ATCB Edition Complete Ambulatory EHR as well as inpatient EHR, serves as an intuitive, user-specific, and customizable EHR. It provides role-based privileges as well as role-based menu system including specialty-focused templates, charting, workflows, digital dashboard, and outstanding task management. We use a wide array of electronic interfaces to ensure that our providers interact with the healthcare intermediaries, including pharmacies, labs, immunization registries, PQRS Registry 2014, syndromic surveillance, cancer registries, etc. This paves the way to enhanced patient care."
Click here to evaluate your current EHR.
About iPatientCare:
iPatientCare, Inc. is a privately held medical informatics company based at Woodbridge, New Jersey. The company's unified product suite that include Electronic Health/Medical Record and integrated Practice Management/Billing System, Patient Portal/PHR, Health Information Exchange (HIE), and mobile point-of-care solutions for both ambulatory and acute/sub-acute market segments. iPatientCare has been recognized as a preferred/MU partner by numerous Regional Extension Centers (REC), hospitals/health systems, and academies, and additionally, has been designated as a Test EHR by the CMS.
iPatientCare EHR 2014 (2.0) has received 2014 Edition Ambulatory Complete EHR certification by ICSA Labs, an Office of the National Coordinator-Authorized Certification Body (ONC-ACB), in accordance with the applicable eligible professional certification criteria adopted by the Secretary of Health and Human Services (HHS).
Full certification details can be found at ONC Certified Health IT Product List.
iPatientCare Inpatient EHR 2014 (2.0) Received ONC HIT 2014 Edition Complete EHR Certification from ICSA Labs, determines ability to support eligible hospitals with meeting meaningful use stage 1 and stage 2 measures required to qualify for ONC Health IT funding under the American Recovery and Reinvestment Act (ARRA).
Full certification details can be found at ONC Certified Health IT Product List.
The ONC 2014 Edition criteria support both Stage 1 and 2 Meaningful Use measures required to qualify eligible providers and hospitals for funding under the American Recovery and Reinvestment Act (ARRA).
Visit http://www.iPatientCare.com for more information.
Contact:
iPatientCare, Inc.
One Woodbridge Center, Suite 812, Woodbridge, New Jersey 07095
Phone: 800-741-0981 | Fax: 732.676.7667 | Email: info(@)ipatientcare(dot)com