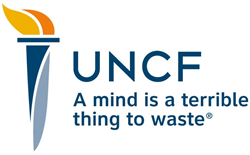 Los Angeles, CA (PRWEB) July 29, 2014
The Los Angeles office of UNCF (the United Negro College Fund) will step out for students at the 32nd annual UNCF Walk for Education on Saturday, August 2, 2014 at Exposition Park (South Menlo and Coliseum). The event, which takes the theme "Building Better Futures: The Value of a UNCF Investment," is a celebration of education that will bring together an estimated 900 community supporters to raise vitally needed funds to help students get to and through college.
"In today's economy, students need a college education more than ever to compete and succeed, and we as a country need them to have that education," said Michael L. Lomax, Ph.D., president and CEO, UNCF. "By investing in our students now, we are providing them with a path to success that will pay future dividends for them, for their families and communities, and for all of us."
Families, teachers and the community at large are invited to participate in the UNCF Walk for Education. Participants can walk or run a 5k course. Members of the community are invited to support UNCF and its students by forming a Walk for Education team or registering as individuals. UNCF is encouraging everyone to register early.
A $60 donation will qualify participants for a 2014 UNCF Walk for Education T-shirt and a $25 donation will qualify all students with I.D. for a 2014 UNCF Walk for Education T-shirt.
Honorary Co-chair for the Los Angeles UNCF Walk for Education is Tarrance Frierson, Supplier Diversity and Development Program Manager, Southern California Edison.
"We invite everyone in the Los Angeles community and surrounding areas to come out and walk to support our students," said Curtis Silvers, Area Development Director. "By supporting them now, we are giving them the education and preparation they need to have successful, secure financial futures and become the next generation of college-educated professionals, good citizens and effective community leaders."
Event sponsors include Title Sponsors Southern California Edison, Superior Grocers, and Tesoro. Start/Finish Sponsors include Union Bank of California, UPS, and Xerox.
UNCF Walk for Education participants will also enjoy food, music, a Kids Play Zone and more.
For more information on the Los Angeles UNCF Walk for Education or for sponsorship packages, please contact UNCF at 213.639.3800, or visit UNCF.org/LAWalk.
About UNCF
UNCF (United Negro College Fund) is the nation's largest and most effective minority education organization. To serve youth, the community and the nation, UNCF supports students' education and development through scholarships and other programs, strengthens its 37 member colleges and universities, and advocates for the importance of minority education and college readiness. UNCF institutions and other historically black colleges and universities are highly effective, awarding 20 percent of African American baccalaureate degrees. UNCF administers more than 400 programs, including scholarship, internship and fellowship, mentoring, summer enrichment, and curriculum and faculty development programs. Today, UNCF supports more than 60,000 students at over 900 colleges and universities. Learn more at http://www.uncf.org.