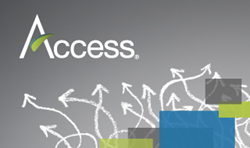 A lot of existing customers and new clients are choosing our web-based forms solution, Access Passport, to help them go paperless and complete their EHR. We're proud to be part of the initiatives that make these hospitals 'Most Wired.'
Sulphur Springs, Texas (PRWEB) July 31, 2014
Access today announced that 34 of its customers were included on the 2014 Most Wired Hospitals list, sponsored by Hospitals & Health Networks magazine. Access's enterprise forms management solutions help these hospitals remove paper, reduce costs and improve patient care and safety.
"A lot of existing customers and new clients are choosing our web-based forms solution, Access Passport, to help them go paperless and complete their EHR," said Access founder and CEO Tim Elliott. "We're proud to be part of the initiatives that make these hospitals 'Most Wired."'
Hospitals are investing more money than ever in healthcare IT as they push toward fully electronic health records, yet most are still printing, scanning and copying procedural consents, admissions packets and other patient-focused forms. Paper-based administrative forms, such as onboarding documentation, capital requests and performance evaluations also create backlogs and drive up costs in back office departments.
Enter Access Passport, which provides a single, web-based destination where hospitals can manage all of their forms across the enterprise. With Passport, clinical and administrative users can:
> Access e-forms easily from any location using virtually any device
> Collect information in e-forms and add attachments in record time
> Capture patient and other signatures directly on e-forms at the point of need
> Automate workflow dynamically using data captured in e-forms
> Deliver completed forms and data to the people and systems that need it
> Track e-forms throughout their life cycle
Hospital users wanting to see web-based forms in action can visit the Access team at AHIMA 2014 (booth 1825), Innovations for Healthcare IT 2014 (booth 408) and NAMSS 2014 (booth 311). Hospital decision makers not attending these events can visit Access's website to learn more about Access Passport.
About Access
For more than 15 years, Access has developed electronic forms management solutions that eliminate the unnecessary expense, risk and inefficiency of paper forms. Our 100 percent paperless technology enables organizations in any industry to capture, manage, sign and share forms data without printing or scanning. Learn more at http://www.accessefm.com and discover how you can help Access's partner The Last Well bring fresh water & the Gospel to Liberia here.