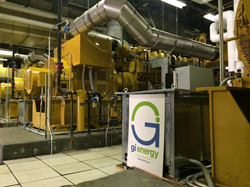 GI Energy was selected for the project because they addressed this issue with a comprehensive construction plan...This proved to be invaluable.
New York, NY (PRWEB) July 31, 2014
North Shore Towers, a luxury co-op community based just east of New York City, partnered with GI Energy, one of the nation's leading combined heating and power (CHP) systems providers, to complete a $13 million upgrade of its 43-year-old CHP system. The original CHP system had been maintained since installation in 1971 and in an effort to extend the life of the plant, GI Energy was contracted to replace three of six generators and associated electrical and heat recovery equipment, while maintaining continuous operation of the entire complex.
The complex relies fully on the existing CHP system to provide all of the heating, cooling, and electricity with no backup from the utility, making a seamless transfer essential for uninterrupted operation of the facility. Continuous operation was particularly important to General Manager Glen Kotowski whose primary goal was to ensure the safety of residents, with minimal inconvenience.
"GI Energy was selected for the project because it offered a comprehensive construction plan and turnkey solution," according to Sal Castro, Chief Engineer at North Shore Towers. "Amir Yanni, Senior Vice President of Construction and Project Management at GI Energy, provided an all-inclusive plan including connected on-site back-up generators throughout the duration of the project," explained Castro. "This proved to be invaluable. Other bidders concentrated exclusively on their design/build contract, leaving the day-to-day operation of the facility and generator rentals to us. While these construction details were very important; the continued, uninterrupted operation of our buildings, simultaneously, was even more important to us."
GI Energy teamed with Caterpillar distributor, H.O. Penn Machinery, to install three natural-gas fired reciprocating engines totaling 4.8 megawatts. Additionally, the team replaced the cooling tower and installed a new gas compressor and heat exchangers. These upgrades increase overall efficiency, conserve fossil fuels and reduce carbon emissions, while extending the life of the plant by an estimated 30 years.
The community—made up of three 33-story buildings, with on-site amenities like golf, tennis, pool, shopping, restaurants and more—will benefit from reduced running costs and a smaller carbon footprint with new equipment running solely on natural gas at higher efficiencies.
"By switching the system at North Shore Towers to natural gas we can increase the resilience of the heat and power supply, while cutting running costs and emissions," stated Amir Yanni, of GI Energy.
The new system is fully operational as of July 23, 2014. The cost of maintaining the system will by cut by almost 40%, equal to about several hundreds of thousands of dollars a year for North Shore Towers. Castro emphasized that, "The project was a success largely due to the diligence of GI Energy, and the new equipment should serve North Shore Towers well for years to come."
GI Energy, which has offices in Chicago, New York, Benicia, CA, and Anaheim, CA, has nearly a decade of experience with CHP systems through its acquisition of Chicago-based Endurant Energy LLC in 2011. Endurant Energy had previously been involved in developing and building the largest grid-connected CHP system in a commercial office building on the east coast, a 6.2 MW installation at One Penn Plaza in Manhattan.