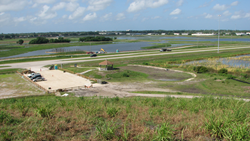 "We here at Stanley Consultants are very pleased with the recognition that these projects have received from the Florida Stormwater Association and the Florida Transportation Builders Association." John Downes, Manager of Florida Offices
Sarasota and Tampa, Florida (PRWEB) August 19, 2014
Two of Stanley Consultants' projects in Florida have been recognized for excellence by professional associations. The Florida Stormwater Association (FSA) has awarded the Sarasota County Celery Fields Regional Stormwater Facility Expansion with an Outstanding Achievement Award. And the Florida Transportation Builders Association (FTBA) has awarded a project on the University of Tampa campus with the Best in Construction Award in the Utility Coordination – Damage Prevention Category. Stanley Consultants is a global consulting engineering firm with Florida offices in West Palm Beach, Sarasota, Tampa, and Miami.
"We here at Stanley Consultants are very pleased with the recognition that these projects have received from the Florida Stormwater Association and the Florida Transportation Builders Association," said John Downes, manager of Stanley Consultants' Florida offices. "It has been an honor for our CEI group to be instrumental in assisting with the effective delivery of these projects to the public."
The FSA Outstanding Achievement Award, given to the Sarasota County Celery Fields Regional Stormwater Facility Expansion, recognizes projects that demonstrate innovative accomplishments and show an outstanding commitment to best stormwater management practices that benefit the environment and local citizenry. The FSA, founded in 1993, serves professionals in stormwater management and finance.
For decades, the Sarasota County area known as Celery Fields was used for growing celery and other row crops. The use of fertilizers and pesticides resulted in arsenic levels above acceptable limits. The $7.2 million Celery Fields Regional Stormwater Facility has successfully reduced pollutant loading and provides treatment for over 3,600 acres of stormwater runoff from north-central Sarasota County within the Phillippi Creek drainage basin. The facility also provides flood protection, wetland restoration habitat, passive recreation, and created additional flood plain storage.
The project created 250 acres of floodplain storage, 115 acres of wetland mitigation planting, 30 acres of wetlands, a stormwater treatment lake, two major water control structures, and an observation hill with trail system. In 2013, the project received a National Environmental Excellence Award – Conservation from the National Association of Environmental Professionals (NAEP). Stanley Consultants was responsible for administering the construction contract and provided construction engineering and inspection services for the project.
The Florida Transportation Builders Association (FTBA) also honored a Stanley Consultants' project, the demolition and replacement of a storm box culvert and other innovative drainage improvements on the University of Tampa campus, with the Best in Construction Award in the Utility Coordination – Damage Prevention Category.
Stanley Consultants provided construction inspection for the project, which entailed the demolition of an existing storm culvert box and replacing it with a reinforced concrete box culvert. The project, which was located at the base of the seawall in the Henry Plant Park, a state historic site, also included the installation of a slip-lined, inverted resin impregnated felt lining to prevent leaking of the existing vitrified clay storm drain pipes located under an active roadway.
The FTBA's annual "Best in Construction" awards honor outstanding projects across Florida. The goal of the FTBA is to foster public understanding and support for an efficient, effective, and totally integrated transportation system including air, highway, local streets and roads, railroads, and public mass transit systems through promotion of the industry.
#
About Stanley Consultants: Stanley Consultants provides program management, planning, engineering, environmental and construction services worldwide. Recognized for its commitment to client service and a passion to make a difference, Stanley Consultants brings global knowledge, experience and capabilities to serve clients in the energy, water, transportation and Federal markets. Since 1913, Stanley Consultants has successfully completed more than 25,000 engagements in all 50 states, U.S. territories, and in 103 countries. For more information on Stanley Consultants, please visit http://www.stanleyconsultants.com.