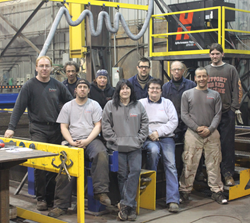 We're getting 50 percent better consumable life than what was being offered by other manufacturers.
Hanover, NH (PRWEB) July 30, 2014
Metal Corbert, a fabrication shop in Shawinigan, Quebec, is reporting a 50 percent increase in plasma consumable life and the ability to cut perfect holes as a result of Hypertherm's Built for Business Integrated Cutting Solutions.
General Manager Lucie Godin says her company is very pleased with the performance of the new Hypertherm system. "We're getting 50 percent better consumable life than what was being offered by other manufacturers." Godin adds that her company is also getting excellent cut quality from Hypertherm's exclusive True Hole technology.
She is also surprised at how easy it is to operate the new system which includes ProNest CAM nesting software. "ProNest has been very easy to program and it allows us to get our parts cut more quickly. In addition, we're using the Plate Inventory option which has improved our traceability."
Metal Corbert, which specializes in metal part production, takes customer visions from CAD design to production, painting, and delivery. Though quite successful, Godin and team had an outdated conventional plasma table that was no longer keeping up with the company's work load. In addition, cut quality from the older system wasn't that great causing Metal Corbert to outsource much of its cutting to keep up with orders.
The addition of the new Hypertherm Built for Business products—which include a HyPerformance HPR400XD plasma system, EDGE Pro CNC, and ProNest software—has enabled the company to bring all of that work back in house and take on new customers. For Metal Corbert that means lower costs since it no longer has to pay another company to cuts its parts, and improved turnaround time so customers get their orders faster. The end result: higher profitability and happier customers.
ProNest has been the industry's leading nesting software for two decades, offering best-in-class performance and reliability with a straight-forward, easy-to-use design. ProNest is also a component of Hypertherm's Built for Business™ Integrated Cutting Solutions, providing support for True Hole™, True Bevel™ and Rapid Part™ technologies. Learn more about Hypertherm at http://www.hypertherm.com.