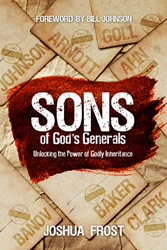 Honest, heart-warming, and sobering all at once. Much wisdom is to be gained from 'Sons of God's Generals.'
Shippensburg, PA (PRWEB) July 30, 2014
Go behind closed doors with the sons and daughters of modern world changers, as the next generation shares personal stories of what it was like growing up being the children of God's generals.
In transparent, tell-all chapters, readers receive first hand experiences from the children of:

Bill and Beni Johnson
Heidi and Rolland Baker
Randy and DeAnne Clark
John and Carol Arnott
Che and Sue Ahn
Georgian and Winnie Banov
Jack and Trisha Frost
James and Michal Ann
"[This book is] honest, heart-warming, and sobering all at once. Much wisdom is to be gained from the "Sons of God's Generals" for anyone wanting to truly leave a legacy to the generations," said Bill Johnson, Bethel Church.
Interviews, review copies and giveaway copies are available upon request.
Joshua Frost moved to Redding, Ca. to become a part of Bill and Beni Johnson's Bethel School of Supernatural Ministry. Joshua's life ministry, at present, is to continue to be mentored by Generals. Currently, Joshua is on staff with Bethel Church as one of the Custodian Managers.
Destiny Image, located in Shippensburg, Pa, was founded in 1983 by Pastor Don Nori, Sr. It seeks to accurately represent authors who have a call to share God's present word to His people and to make these authors easily accessible to the Christian body around the world in every form of media possible.
FOR PRESS INQUIRIES, INTERVIEWS AND REVIEW COPIES:
Brad Herman
(719) 439-4960
bherman(at)norimediagroup(dot)com