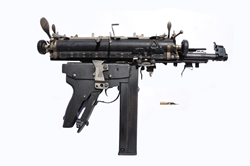 Integrating seemingly unrelated images in search of something universal.
Denver, CO (PRWEB) July 30, 2014
Multimedia Artist Ravi Zupa today announced his summer schedule of solo and group exhibitions. On view will be a range of new works including "Mightier Than," a series of found-object assemblages in which the artist transforms ordinary implements of language like typewriters and pen nibs into machine guns. Zupa's work draws from diverse traditions to incorporate finely-wrought drawing, painting, collage, block print, and sculpture. "Whichever [medium] Zupa uses," says Juxtapoz Magazine, "the results look as if we are unearthing art from centuries ago, with an aged look mixed with contemporary iconography."
"ART ALLIANCE: THE PROVOCATEURS"
LOLLAPALOOZA | BLOCK THIRTY SEVEN | JULY 31 - AUGUST 4, CHICAGO
Shepard Fairey, who gained wide recognition for his iconic Obama campaign poster "Hope," has since gone on to become an outspoken advocate for progressive and subversive art. With his exhibition "Art Alliance: The Provocateurs," programmed through Lollapalooza 2014, Fairey has carefully selected a group of renowned artists from around the country whose work aligns with his DIY ethos and street-art aesthetic. "The Provocateurs" will feature a number of new works by Zupa, including the aforementioned "Mightier Than," to receive its world premiere here. "Art is increasingly about straddling worlds," says Fairey. "That makes it a natural fit for music [the traditional staple of Lollapalooza programming]." Also on display will be other notable contemporary artists such as Mark Mothersbaugh, Swoon, and HAZE.
Address: 108 North State Street | Chicago, Illinois 60602 | 312.261.4700
Hours: Monday through Saturday, 10 a.m. - 8 p.m., Sunday, 11 a.m. - 6 p.m.
ART AUCTION
MUSEO DE ARTE MODERNO MEXICO CITY | SEPTEMBER
This eminent institution houses permanent collections from such luminaries as Frida Kahlo, Gelsen Gas, and Diego Rivera. More information at mam.org.mx.
Address: Paseo de la Reforma y Gandhi S/N, Bosque de Chapultepec I, Miguel Hidalgo, 11560 Ciudad de México, Distrito Federal, Mexico | +52.55.5553.6233
"JUST A MOMENT"
BLACK BOOK GALLERY | AUGUST 1, DENVER
This solo show will highlight block-printed images and hand-painted multiples. The event is free and open to the public, and the artist will be in attendance. Opening reception August 1, 6 p.m. -10 p.m .
Address: 555 Santa Fe Dr. | Denver, Colorado 80204 | 303.941.2458
Hours: Monday through Saturday, 11 a.m. - 1 p.m.
"ÉGRÉGORE"
YVES LAROCHE GALERIE D'ART | OCT 30 – DEC 20, MONTREAL
Rooted in the underground worlds of tattooing, graffiti, comics, pop art, illustration, and surrealism, the art exhibited at YL feeds off of an eclectic blend of cultural influences. This group exhibition bills itself as the Zenith of Pop Surrealism, and showcases new work from over 50 notable international artists.
Opening reception October 30, 5 p.m. - 9 p.m.
Address: 6355 Boulevard Saint-Laurent | Montréal, Québec, H2S 3C3 | 1.514.393.1999
Hours: Tuesday through Friday, 11 a.m. - 7 p.m., Saturday, 11 a.m. - 5 p.m.
"SHALLOW END"
FIFTY24MX GALLERY | OCTOBER, MEXICO CITY
Zupa's second solo show in Mexico City, "Shallow End" will feature all new work, including a number of sculptures from the "Mightier Than" series. "I love showing at Fifty24MX because the cultural ties to Denver [the artist's home town] are so strong," Zupa said. "…and doing art for a Mexican audience is such a good opportunity to actually share directly with a specific culture that is so influential on my art."
Address: Colima 184 Col. Roma Norte | México City, DF | 55.5256.1444
Hours: Tuesday through Saturday, 1 p.m. - 8 p.m., Sunday, 12 p.m. - 6 p.m.
ABOUT THE ARTIST:
All of Ravi Zupa's images are drawn and painted by hand. He considers books the best way to experience art and has spent decades studying art from cultures and movements that span history and originate from diverse geographical regions. Being entirely self-taught, he looks for inspiration in works by German Renaissance print makers; Flemish primitives; abstract expressionists; Japanese woodblock artists; Mughal painters; religious iconography from Europe, Asia and Pre-Columbian Latin America; and revolutionary propaganda the world over. With a distaste for ironic art or the thoughtless appropriation of culture, he integrates seemingly unrelated images in search of something universal.
MEDIA CONTACT:
David Scott
CONTENT Public Relations
http://www.ContentUniversal.com
david(at)ContentUniversal(dot)com
720.371.9164