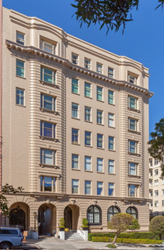 The apartment is located in the luxurious 2000 Washington Street cooperative apartment building which is perhaps the most desirable cooperative or condominium building in all of San Francisco
San Francisco, California (PRWEB) July 30, 2014
A post at HomesSF.com announced the sale by Kirk and Peggy Economos of their exclusive listing at 2000 Washington Street in the exclusive Pacific Height's Neighborhood of San Francisco. The 3-bedroom, 4 1/2-bath, full-floor cooperative apartment was marketed quietly beginning in mid-June and closed escrow Tuesday, July 29, 2014 for a confidential amount over $9,000,000.
HomesSF.com reported that the full-floor coop offers over 5,000 square feet of living area and is just one of 6 coop apartments in the classic main building that occupies a pinnacle position on the top of the Pacific Heights. The apartment offers inspiring views of San Francisco Bay, the Golden Gate Bridge, Angel Island, the Marin Headlands and Alcatraz.
Peggy Economos said: "The apartment is located in the luxurious 2000 Washington Street cooperative apartment building which is perhaps the most desirable cooperative or condominium building in all of San Francisco. The building is located across from the landscaped gardens and tall trees of San Francisco's Lafayette Park."
The apartment at 2000 Washington is prestigious and elegant. The floor plan is un-crowded and inviting. Walls finished in subtle tones and accented by artful wood detailing assert richness, while ceilings finished in Venetian Plaster impart sensuous warmth and color.
The sale on July 29, 2014 of Apartment 3 follows the sale of the same apartment earlier in the year in which Kirk and Peggy Economos represented both the sellers and the buyers.
For more information and pictures of the apartment follow this link.
Peggy Economos and Kirk Economos are luxury residential property specialists that work as agents with Pacific Union International - Christies International Residential Real Estate at their Presidio Offices in San Francisco. They are a wife and husband team that has consistently produce exceptional results for the buyers and sellers they represent.
HomesSF.com is the online presence of Peggy and Kirk Economos. The site provides information on the local San Francisco luxury residential market as well as news, insight and information on national and global, high-end properties and markets.
For buyer and seller representation, real estate information in San Francisco or for a qualified luxury property referral in your local area contact: Peggy and Kirk Economos, http://HomesSF.com, call: (415) 271-6390, or email: [email protected]