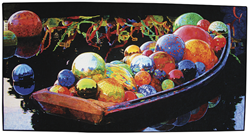 (PRWEB) July 30, 2014
American Quilter's Society, the largest quilting membership organization in the world, is pleased to announce the winners of the AQS Quilt Contest. Over $50,000 in prizes will be awarded to the winners at AQS QuiltWeek® - Charlotte, NC, taking place from July 30 to August 2 at the Charlotte Convention Center, 501 S College Street, Charlotte, NC 28202.
As part of the American Quilter's Society's celebration of quilting excellence, the contest recognizes the skill and creativity of today's quiltmakers, as artists compete in the AQS Quilt Contest for more than $50,000 in cash awards. Entries come from around the world to compete in 13 different categories.
This year's winners come from twenty-three different states. There is also an honorable mention winner from Tokyo, Japan. Several of the prizewinners are entries from North Carolina or South Carolina. These winning quilts will astound the 15,000 quilters expected to visit AQS QuiltWeek® in Charlotte, North Carolina, this week.
The AQS Quilt Contest Prizewinners are as follows:
Best of Show Award
CHIHULY'S GONDOLA, Melissa Sobotka, Richardson, Texas (#559)
Best Wall Quilt Award
BALTIMORE ALBUM TRIBUTE, Jackie Perry, Marion, Virginia (#418)
Best Traditional Quilt Award
AUNT MIMI'S FLOWER GARDEN II, Elsie M. Campbell, Ponca City, Oklahoma (#102)
Best Innovative Quilt Award
A TO Z FOR EWE AND ME, Janet Stone, Overland Park, Kansas (#212)
Best Modern Quilt Award
KEEP IT SIMPLE, Jodi Robinson, Enon Valley, Pennsylvania (#616)
Best Computer-Aided Quilt Award
CROWN JEWELS, Lisa H. Calle, Pottstown, Pennsylvania (#702)
Bed Quilts – Traditional
First VANDALIA ALBUM, Charli Fulton, Charleston, West Virginia (#107)
Second AUTUMN JOURNEY AT WHITE OAK, Kathryn Zimmerman, Mars Hill, North Carolina (#128)
Third SESQUICENTENNIAL, Lori Allison, Prior Lake, Minnesota (#101)
Hon. Mention RHAPSODY IN BLUE, Edith Stein, Fort Mill, South Carolina (#123)
Bed Quilts – Innovative
First SNOWMEN AT PLAY, Sharon Snoddy, Huntington, West Virginia (#211)
Second ISABELLE, Kathi Carter, Vineyard, Utah (#203)
Third GREG'S SONG, Cheri Meineke-Johnson and Linda V. Taylor, Corinth, Texas (#206)
Hon. Mention A WINDOW ON ST. STANISLAUS PARISH, Joanne M. Butterfield and Sophie M. Pelletier, Charlotte, North Carolina (#202)
Bed Quilts – Computer-Aided
First DRESDEN'S DILEMMA, Deborah Poole and Sharon Del Pino, Shelley, Idaho (#303)
Second CHOCOLATE AND BLUEBERRIES, Dawn Larsen, Vernon Hills, Illinois (#302)
Third OODLES OF SENSATIONS, Linda Barrett, Lexington, South Carolina (#301)
Hon. Mention OVER, UNDER, AND AROUND…, Krystyna Swirydczuk, Las Cruces, New Mexico (#304)
Wall Quilts – Traditional
First UPPER BODY WORKOUT IMPROVED, Laura Trenbeath, Pavillion, Wyoming (#429)
Second ROSES FOR KATRINA, Gail H. Smith, North Barrington, Illinois (#422)
Third OBSESSION, Mary Bauer, Crestwood, Kentucky (#401)
Hon. Mention HONOR, COURAGE, AND COMMITMENT, Cheryl Beglau and Laura Orben, Groton, Connecticut (#402)
Wall Quilts – Innovative/Art
First THE LANDING, Joanne Baeth, Bonanza, Oregon (#502)
Second MORE THAN A MEMORY, Kathy McNeil, Tulalip, Washington (#536)
Third WANDERING 'ROUND MY WORLD, Beth Schillig, Columbus, Ohio (#554)
Hon. Mention IF THEY WERE IN P.E.I., Hiroko Miyama, Chofu City, Tokyo, Japan (#539)
Wall Quilts – Modern
First RURAL RAGTIME, Jennifer Emry, Arlington, Virginia (#606)
Second LET'S THAI ONE ON, Phyllis Kluger, Berkeley, California (#609)
Third WATERFALL, Wilma Grubbs and Linda Esenbock, Leesville, South Carolina (#607)
Hon. Mention VARIEGATED, Paige Alexander, Easley, South Carolina (#601)
Wall Quilts – Computer-Aided
First OUTTA THE LOOP, Karen Marchetti and Eyvonne Smith, Port St. Lucie, Florida (#707)
Second LIFE EVERLASTING, Ann Horton, Redwood Valley, California (#705)
Third ZEN GARDEN, Margaret Solomon Gunn, Gorham, Maine (#704)
Hon. Mention B. J. HIBISCUS PRELUDE, Sylvia G. Snyder, Hurlock, Maryland (#712)
All of the winning quilts, as well as the semi-finalist works, will be on display at the Charlotte Convention Center for the remainder of the week. In addition, AQS QuiltWeek® will be hosting a number of other special exhibits, workshops with some of the top talent in the quilt industry, and an extensive merchant mall comprised of both local and national vendors.
Admission to AQS QuiltWeek® is $14 per day and tickets can be purchased at the door. Multiday tickets are available. Hours are Wednesday, July 30 through Friday, August 1, from 9 a.m. to 6 p.m., and Saturday, August 2, from 9 a.m. to 5 p.m. Ticket and additional information can be found at http://www.quiltweek.com/charlotte or by calling 1-270-898-7903.
About the American Quilter's Society
The American Quilter's Society is the largest quilting membership organization in the world. For 30 years, AQS has been the leading voice in quilting inspiration and advice, through a broad suite of products—magazines, books, live events, contests, workshops, online networks, patterns, fabric, and catalogs. At AQS, we believe that with inspiration and advice, the creatively-minded individual can take their quilting projects beyond what even they had imagined. The leading authors in quilting choose to publish with AQS; the best in quilt artistry select AQS events to display their work; the newest quilters learn from the knowledge and inspiration of AQS members. For more information on the American Quilter's Society, please visit http://www.americanquilter.com or call 1-270-898-7903.
-30-