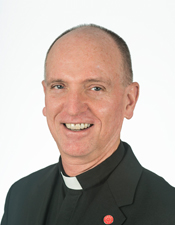 Washington, DC (PRWEB) July 30, 2014
Fr. Adolfo Nicolás, SJ, Superior General of the Jesuits, has appointed Fr. Thomas H. Smolich, SJ, international director of Jesuit Refugee Service (JRS). Headquartered in Rome with 10 regional offices around the world, JRS accompanies, serves and advocates for the rights of refugees and other forcibly displaced people. The organization has more than 1,800 staff and volunteers and provides health, education and social services to upwards of 950,000 refugees per year. Fr. Smolich begins his term on November 1, 2015.
"I'm deeply honored and grateful that Fr. General missioned me to this assignment, because JRS speaks to the heart of Jesuit identity and our Jesuit mission," Fr. Smolich says. "JRS goes where the need is greatest, to places where others are unable or unwilling to go. JRS witnesses to who we are as evangelizing people. Whether someone is a Catholic or not is not the question--we are there to preach the good news."
Because of its work in war-torn regions, JRS employees and volunteers often find themselves in the crosshairs of global conflict. In June, JRS Country Director Fr. Alexis Prem Kumar, SJ, was kidnapped in Afghanistan, and his whereabouts are still unknown. Fr. Smolich acknowledges that "the Church often is called upon to do challenging work. I think one has to prepare for this as much as possible, but ultimately, we realize we are called to be on the frontiers, and the frontiers are sometimes dangerous."
As he steps down this week as president of the Jesuit Conference, the organization that represents the Society of Jesus in the U.S. and internationally, Fr. Smolich begins a five-month stay at the Jesuit School of Theology of Santa Clara University in Berkeley, California, where he will study French and work on special projects. Already a Spanish speaker, he hopes to become proficient in both French and Italian before beginning his new job.
To prepare for his new role, Fr. Smolich will begin 2015 by spending four months with JRS in Eastern Congo, working with refugees from that country's war as well as with refugees from Rwanda and other parts of Central Africa. In May of next year, he heads to Lebanon to work with JRS Middle East, currently the largest of the organization's ten regions. There, he'll help respond to the needs of displaced people within Syria and of refugees in Beirut and Amman, Jordan.
Next summer, he'll travel to Rome to study Italian and will spend the fall of 2015 working side-by-side with outgoing JRS international director, Fr. Peter Balleis, SJ.
###
About the Society of Jesus in the United States
Founded in 1540 by Saint Ignatius Loyola, the Society of Jesus (Jesuits) is the largest order of priests and brothers in the Roman Catholic Church. Jesuit priests and brothers are involved in educational, pastoral and spiritual ministries on six continents and in 127 nations, practicing a faith that promotes justice. For nearly 500 years, Jesuit education has made its mark on the world. In the United States, there are 28 Jesuit colleges and universities, 59 Jesuit high schools and 16 middle schools with a shared goal of developing competent, compassionate and committed leaders in the service of the Church and society. Jesuits minister in parishes and at retreat houses and serve as chaplains at prisons, hospitals, nursing homes and in the military. For more information on the Society of Jesus, visit http://www.jesuits.org.