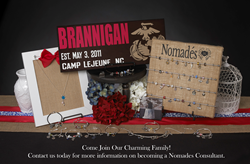 'The best benefit of being a Nomades Consultant is opportunity!' - Michelle Hausman
Fort Collins, CO (PRWEB) August 12, 2014
Nomadés™ Fall Catalog Release Featuring New Charms, Spacers and Opportunities for Employment, a military spouse owned direct sales company, announces the publication of their new Fall 2014 catalog on Wednesday, August 20, 2014. Featuring over 30 new charms and spacers, this 52 page, full-color glossy catalog is a comprehensive book of all the Nomades™ collection charms and much more.
Charms are categorized by all five military service branches, Life's Moments, and Spacers. Additionally, customers can discover the Home Grown section, which includes customized signs, coasters and key chains.
Nomadés™ launched into a direct sales company 4 years ago and is the leading company in the United States producing military duty station and patriotic charms. Additionally, Nomadés™ offers the opportunity for military spouses (and individuals affiliated with the military) to earn an income and be their own boss by owning their own company. There are areas around some military bases and large cities without consultants. These areas offer huge opportunities for leaders to grow a market and venture from there. Being a Nomadés™ consultant has the potential to create a lasting residual income with products that offer military associated individuals opportunities to share their story through a beautiful charm line. Consultants get paid through customer sales, team volume and bonus incentives. As individuals purchase Nomadés™ products, they refer their friends and family; this in turn, increases income.
With the release of the Fall Catalog, consultants are able to show others the Nomadés™ line and offer the opportunity to own their own business. "The best benefit of being a Nomadés™ Consultant is OPPORTUNITY." states team leader Michelle Hausman. "Being a consultant for Nomadés™, I have the opportunity to receive training, grow my own team, meet new people, run my business my way and at my pace, and earn money while do it."
The Fall Catalog debuts this month, new kit options and compensation plan, provide an opportunity to get in on the ground floor and join the Nomadés™ family. Nomadés™ will help new consultants get started, provide training, and in short as a few weeks, individuals, can be working their own business, setting work hours, meeting new people, earning pay, and helping others share their story. Individuals interested in starting should contact Nomadés™ Release Sales Director, Christy DeWitt.
Nomadés™ Founded in 2009 by military spouses, Nomadés™is a direct sales company offering the opportunity to individuals looking to start their own business. Nomadés™ creates sterling silver military duty station and patriotic charms. All charms are made in the USA. Nomadés™ products can be seen at http://www.nomadescollection.com