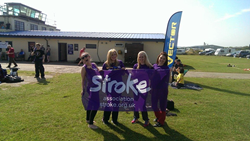 Coventry (PRWEB UK) 31 July 2014
Vikki Royle, Kirsti Anderson, Jen Morris and Maria Gray took to the skies near Langar Air Field in Nottingham on a beautiful summer's day in July.
The Rant & Rave girls raised £3154 for their event and were absolutely delighted to have smashed their target of £2000. Marketing Communications Manager, Jen Morris says: "We're thrilled to have raised such a great amount for a brilliant and worthy cause. The support has been incredible and we can't thank those who donated enough."
The Stroke Association is a charity extremely close to the hearts of the four brave skydivers who have all had at least one loved one suffer a stroke in recent times and jumped (literally) at the chance of raising money for the cause.
The charity provides high quality and current information for stroke patients, their families and carers. It informs people of the practical, emotional and financial support available to families of stroke victims and how to get back to a normal life.
Coventry-based, Rant & Rave, is one of the UK's leading customer engagement specialists, listing half of the FTSE as their clients.
Dennis Fois, CEO of Rant & Rave says: "I'm really impressed by what the girls at Rant & Rave have achieved. They all had their own reasons for wanting to raise funds for the Stroke Association but had to summon tremendous courage to actually make the jump and of course we didn't doubt them for a second. They should be incredibly proud."
Donations to the Stroke Association can be made on the Rant & Rave team's just giving page https://www.justgiving.com/rantandraveteam/ or via http://www.stroke.org.uk/donation.
About Rant & Rave

Rant & Rave (formerly known as Rapide) was launched in 2000 by Nigel Shanahan and is one of the UK's leading customer engagement specialists, counting half of the FTSE as clients.
Its multi-channel solutions let brands proactively communicate with and gather fast feedback from their customers to manage and measure their experience. By providing solutions which are customer, not brand, centric Rant & Rave helps its clients to transform Ranters into Ravers and turn happy customers into lifelong advocates.
To find out more about Rant & Rave visit http://www.rantandrave.com.