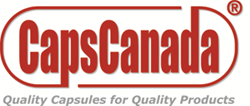 Pompano Beach, FL (PRWEB) August 01, 2014
CapsCanada, a leading provider of empty capsules, announced today the opening of a new K-CAPS® (HPMC capsules) manufacturing facility in Lakeshore, ON, Canada.
The company announced expansion plans last year while experiencing growing global demand for its products. According to Dale Martin, General Manager, "KCAPS® are currently sold in more than 60 countries around the world." He added that: "Compared to other HPMC capsules, K-CAPS® have exceptional appearance and run better on automatic capsule filling machines, which directly translates into reduced downtime and reduced raw material loss for our customers."
CapsCanada has already generated more than 25 jobs and invested over $10 million in the new facility. "This is the first step of an ongoing capacity expansion; we will continue investing and generating jobs in North America: by the end of 2014 we expect to have had generated more than 40 new jobs in Canada and the U.S." said Martin.
About the company:
CapsCanada is a leading provider of empty capsules for pharmaceutical drugs and dietary supplements. Clients include the most prestigious companies around the world. For more information visit http://www.capscanada.com.
Contact:
Ginny Kallin
CapsCanada
(954) 979-6440