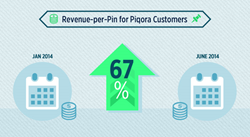 Brands will continue to prioritize and rigorously track business metrics like revenue and traffic, not only follower counts – which is exactly what Piqora helps brands accomplish.
San Mateo, CA (PRWEB) July 31, 2014
Piqora (http://www.piqora.com), the complete marketing and analytics suite for Pinterest, Instagram, and Tumblr announced today that e-commerce revenue from Pinterest referral traffic grew an average of 67% for Piqora's 400+ customers from January to June 2014. The sample included 45% apparel brands, 25% home decor brands, 20% retail brands and other categories. This study further validates that brands are able to generate massive social ROI by using Piqora's marketing suite that enables smarter marketing on Pinterest.
The results of this study are based on the Revenue-per-pin metric, part of the ROI dashboard in Piqora's Pinterest Analytics Suite. Revenue-per-pin is calculated from brands that have connected their Google Analytics, Omniture, or Coremetrics to Piqora.
The value of e-commerce orders from Pinterest referral traffic grew 8.3% in the first half of 2014 compared to the same period in 2013, while the average conversion rate increased 4%. Overall referral traffic also grew significantly, with Visits-Per-Pin increasing 172%, and Pageviews-Per-Pin jumping 304% for Piqora customers during the same January 2014 to June 2014 time period. "The economic value of a pin continues to grow. As more and more consumers make Pinterest their first destination to discover new products and brands, we expect these revenue and traffic results to only accelerate through the rest of 2014," said Piqora CEO Sharad Verma.
The increase in revenue seen by the hundreds of brands in this study is catalyzed by Piqora's marketing & analytics suite. Piqora's platform enables marketers to pin when their audience is active on Pinterest, understand which images and products resonate with their audience, launch contests and sweepstakes, learn from content strategies of other brands, and uncover the entire pin-to-purchase revenue cycle.
Piqora was also recently selected to be one of the few companies to participate in Pinterest's marketing technology developer's initiative with access to Pinterest's Business Insights API. Additionally, Piqora launched 'Pinterest Trends' product, which allows marketers to gather deep industry and category-level insights that benchmarks a brand's performance on Pinterest against the performance of competitors.
"Brands are looking for real ROI from their marketing efforts. And Pinterest delivers just that. Not only are marketers are achieving tremendous branding footprint via pins and repins but they are also able to drive traffic with purchase intent" said Verma. "Brands will continue to prioritize and rigorously track business metrics like revenue and traffic, not only follower counts – which is exactly what Piqora helps brands accomplish," Verma added.
About Piqora
Piqora is marketing and analytics for visual channels such as Pinterest, Instagram and Tumblr. Over 400 of world class retailers, brands, publishers, and agencies are using Piqora's marketing and analytics platform to easily gain actionable insights into trending images, run photo and pin contests, measure ROI and connect with influential brand advocates across visual social networks. Top brands working with Piqora include Etsy, Crate & Barrel, Expedia, Shoedazzle, Random House and Gilt. In April of this year, Piqora announced it closed a Series A investment of $7.7 million, led by DFJ with participation from Freestyle Capital, Baseline Ventures, Lazerow Ventures, Firebolt Ventures and Altos Ventures, bringing total financing to over $11 million dollars. For more information on Piqora visit http://www.piqora.com.