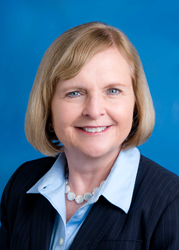 "Pam's knowledge of how to generate leads from web-based campaigns matches the growing needs of our Franchise Owners." -Richard Kissane, President and CEO of Premium Franchise Brands
Alpharetta, GA (PRWEB) July 31, 2014
Richard Kissane, President and CEO of Premium Franchise Brands, announced that Pamela A. Evans has joined his team as the Vice President of Interactive Marketing, a newly created position to lead interactive marketing strategy and demand generation programs for Jan-Pro International Commercial Cleaning and Maid Right Residential Cleaning companies.
Ms. Evans brings Premium Franchise Brands global marketing and communications experience in how to grow businesses in emerging markets. In her new role, she will be responsible for website strategy, public relations, social media, and email marketing. "Pam's knowledge of how to generate leads from web-based campaigns matches the growing needs of our Franchise Owners," says Kissane. "We are very happy to have her interactive marketing leadership on our executive team."
Ms. Evans held leadership positions at IBM in digital marketing, marketing communications, and public relations for 32 years. She led a series of digital marketing initiatives in website design, global content management, automation, analytics, and loyalty programs for the past 16 years. In 2008 her digital marketing leadership was recognized by industry peers as the Target Marketing Magazine Marketer of the Year.
Pamela Evans holds an MBA degree in Marketing from Georgia State University and a BA in English degree from Georgia Southern University.
About Premium Franchise Brands:
Premium Franchise Brands LLC is the holding company for two subsidiaries, JAN-PRO Cleaning Systems and Maid Right Franchising LLC. JAN-PRO has been an industry leader in franchise commercial cleaning for over 22 years, being most recently recognized in Entrepreneur Magazine's 2014 Franchise 500 rankings as the #1 in commercial cleaning, #1 low cost franchise, the fastest growing commercial cleaning franchise, and #12 overall franchise. Maid Right Franchising, LLC is a professional-grade home cleaning franchise founded in April 2013 and has established 17 franchises to date, with two in Canada. Maid Right's owner-operator business model, branded processes, and advanced cleaning services are adapted from JAN-PRO. For more information, please contact:
Premium Franchise Brands
Office: 678-336-1780