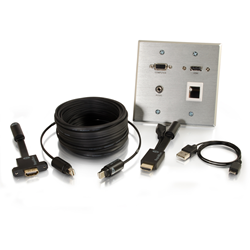 Dayton, OH (PRWEB) July 31, 2014
C2G (http://www.c2g.com), the preferred provider and trusted expert of high performance cabling and connectivity solutions, announced today that its RapidRun Optical modular cabling solution is now available for purchase through IT and A/V distributors and reseller partners.
Unveiled at InfoComm 2014, RapidRun Optical is the next generation of modular cabling solutions that addresses the needs of today's A/V applications. Engineered to provide significant advantages over traditional cabling and alternative signal distribution options, RapidRun Optical carries with it significant advantages in three key areas: form factor, bandwidth and specifications.
The fiber optic based design allows for easier installation through walls and ¾" conduit than traditional cabling solutions due to its slim connector construction and tight bend radius of just 5mm. This simplifies installation and saves time, particularly on large deployments such as in schools or campus-wide corporate installations. With 18Gbps of bandwidth, RapidRun Optical is able to support UltraHD and 4k resolutions at 60Hz and beyond at distances up to 1,000ft — providing maximum resolution at maximum distance. RapidRun Optical is OFNP (plenum) rated, resists electromagnetic interference and does all this utilizing a single low voltage USB power port on the display end of the cable, eliminating the need for addition AC outlets. These improvements combine to make RapidRun Optical the leanest-longest, fastest-strongest modular cabling solution available.
For more information, please consult your preferred IT or A/V distributor or reseller or visit http://www.c2g.com/go/rapidrun-optical.
###
About C2G
C2G, a group brand of Legrand, is a global leader in IT, A/V, datacom cabling and connectivity solutions since 1984. C2G delivers connectivity solutions renowned for superior quality, value and innovation and are backed by an uncompromising commitment to customer service. C2G is widely known as the cabling and connectivity supplier of choice for industry leading technology resellers and distributors across North America, EMEA and Asia. In 2014 C2G joined the Data Communications division of Legrand, North America (http://www.legrand.us), the world specialist in products and systems for electrical installations and information networks, offering solutions for use in residential, commercial and industrial buildings. For more information, please visit http://www.c2g.com.
C2G and Cables To Go are registered trademarks of Legrand. All other trademarks are the property of their respective owners.
Media Contact:
Alec Vaughn
Director of Marketing Communications - Data Communications
Legrand, North America
(937) 531-7946
avaughn(at)c2g(dot)com