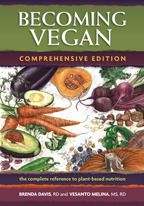 He that takes medicine and neglects diet wastes the skills of the physician.
Summertown, TN (PRWEB) July 31, 2014
Two years in the making, Becoming Vegan: Comprehensive Edition (Sept. 2014) is a in-depth overview of the research behind the latest scientific findings on the viability of vegan diets. Dietitians Brenda Davis and Vesanto Melina, well-respected authorities on plant-based nutrition, put forth an impressive case that well-planned vegan diets are safe and adequate for people at all stages of life, including those with unique nutritional needs such as athletes and pregnant or lactating women.
Well-planned is the key operative word. The authors explore the health benefits of vegan diets compared to other dietary choices; explain protein and amino acid requirements at various stages of life; describe fats and essential fatty acids and their value in plant-based diets; investigate carbohydrate facts and fallacies; reveal the truth about wheat, gluten, and grains; pinpoint where to obtain calcium, iron, zinc and other minerals without animal products; clarify the importance of obtaining vitamin B12; and show how to attain optimal nutrition during pregnancy and lactation.
Nutritional guidelines are provided for infants, children, teens, and adults, including seniors; and a section is devoted on how to achieve and maintain healthy weights and exceptional fitness on a vegan diet. Numerous tables and graphs covering nutrient intakes, composition breakdowns, and food sources based on vitamin and mineral content illustrate each section. A handy graphic of the vegan plate offers a daily plan for healthful eating. Equally beneficial are the sample menus designed for people of various caloric needs.
Brenda Davis is a leader in her field and an esteemed, popular speaker. Since 2006, she has been actively involved in a lifestyle-based diabetes research study conducted by the Canvasback Missions Inc., Loma Linda University, and the Marshall Islands Ministry of Health. Vesanto Melina co-authored the joint position paper on vegetarian diets for the Academy of Nutrition and Dietetics and Dietitians of Canada. Their best-selling books are in print in seven different languages and sold in more than 15 countries. Dietitians, physicians, nutritionists and nutrition educators will find this book to be an invaluable resource in meeting the needs of clients and students.
Becoming Vegan was originally published in 2000 by Book Publishing Company, whose genre are books on plant-based cooking and nutrition and healthy living. Due to the immense volume of research, two new editions were written to meet the different needs of consumers and professionals. Last year Becoming Vegan: Express Edition was released offering new evidence of the health benefits of a vegan diet and expanded coverage of all the essential nutrients. This "streamlined" version is extensive, yet easily understandable for anyone who wants to construct a nutritionally balanced plant-based diet. More information can be found at becomingvegan.ca.
While much of the emphasis is on the health advantages that vegan diets offer, an opening chapter is devoted to the impact of animal agriculture on the environment, and the degree of inhumanity that has dominated the industry. Plant-based nutrition truly benefits the entire planet, and every bite makes a difference.