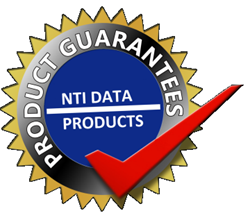 Our culture has always been customer-driven, the Guarantee just seemed like a given if we were going to leverage our culture to the customer's advantage.
Goffstown, NH (PRWEB) July 30, 2014
NTI Data Products, one of America's oldest industrial labeling solution providers, today announced their new zero-risk order policy: "Guaranteed Satisfaction - Or Replaced, On Us."
With over thirty years of experience solving almost any kind of labeling problem, NTI Data Products has the expertise that allows them to offer this unique guarantee. By carefully reviewing and selecting a narrow list of manufacturer partners, NTI has the knowledge base to ensure any labeling requirement meets or exceeds your objectives. The Guarantee now allows for clients to fully benefit from the no-risk approach that they have managed with their clients over the decades and now make it available for everyone. Access a sampling of what they offer through their catalog here.
Tom James, President and Founder, noted that, "This is a logical extension of the great service we are already known for providing. We want everyone to know that when you work with one of our experts, you won't be disappointed and you won't need to consider any risk of working with our team. Whenever we or our client make a mistake, we can assure them we will always make it right."
How do you know if your product's labeling solution is meeting all of its requirements? You ask an expert at NTI Data Products. With a few questions answered, they will be able to quickly determine if your label is the optimal solution while considering factors like adhesives, ribbons, exposure, impacts, etc. Get a no-obligation audit of your current labeling solution today.
About NTI Data Products
NTI Data Products is a provider of industrial labeling solutions including all varieties of standardized and specialized labels, thermal transfer printers and ribbons, and on-site service and support for their ID Solutions. Whether it requires withstanding extreme weather, cold or heat, frequent impact, withstanding long durations under the sun or under the sea, NTI Data Products has the expertise to source exactly the right solution for the need - Guaranteed. With over thirty years of sourcing only the most reliable products and maintaining a loyal and satisfied client list of manufacturers, distributors, logistics and other operators, NTI Data Products has all the expertise required to upgrade your solution or provide one for a new requirement.
FOR MORE INFORMATION: Please visit our website at http://www.ntidata.com or direct inquiries to us via carol(at)ntidata(dot)com.