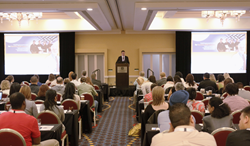 "After successfully hosting this event for four years in California, we felt the time was right to bring this event to the heart of Florida"
DELRAY BEACH, FL (PRWEB) August 01, 2014
On Monday, June 30th, the Quirk Healthcare Foundation hosted the 2014 California NextGen User Symposium in San Francisco, CA. Now in its fourth year, the 2-day event was held at the JW Marriott Union Square hotel.
"We are excited about returning to California to help practices get up to speed with ACA compliance issues," Quirk Healthcare Foundation Executive Director, Ben Quirk, said earlier this month. The symposium provides attendees guidance with NextGen implementation and use, electronic records documentation practices, and the impact of the Affordable Care Act on provider practices.
The Quirk Healthcare Foundation previously hosted the first Florida NextGen User Symposium on June 23-24, 2014 at the Omni Championsgate Hotel in Championsgate.
"After successfully hosting this event for four years in California, we felt the time was right to bring this event to the heart of Florida," Ben said.
Both events included a keynote address, client-led discussions, and breakout sessions. Topics included Meaningful Use Stage 2, the latest improvements to NextGen, and ICD-10 updates. The generosity of event sponsors made attendance for both symposia free.
###
The Quirk Healthcare Foundation (QHF) was founded in 2014 by Chris and Ben Quirk and provides educational opportunities related to healthcare delivery and regulatory conformance. Quirk Healthcare Solutions (QHS) is a nationally recognized consulting and software development firm. The company has been instrumental in helping eligible providers recover millions in Medicare and Medicaid reimbursement payments, as well as receiving compliance recognition. For more information about Quirk Healthcare Solutions or the Quirk Healthcare Foundation, call 855 937 8475 or email info(at)quirkhealthcare(dot)com.