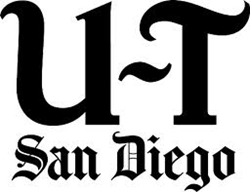 'Anytime. Anywhere' is more than just a slogan.
San Diego, CA (PRWEB) July 31, 2014
U-T San Diego announced it is expanding digital platform solutions for its advertisers. The U-T is offering a range of new services that will help customers establish or enhance their digital presence.
"Local businesses need a trusted partner to help identify strategies that will work. We can help them navigate the digital landscape to ensure they can achieve their business goals," said Mike Hodges, U-T San Diego's President and COO.
" 'Anytime. Anywhere' is more than just a slogan," Hodges said. "It is U-T San Diego's commitment to working with advertisers so that they connect with their target audiences and market their businesses locally, regionally and nationally, 24 hours a day, on a range of digital platforms and devices."
Here are just some of the services being rolled out:

Search: U-T Digital Service's complete search solutions package includes campaign setup, management, SEO and SEM.
Social: Tap into the power of social media, engaging with audiences and delivering messages consistently across all media platforms.
Design & Development: The U-T has a talented team of in-house experts who take care of the creative and development tasks, allowing customers to focus on their business.
Analytics & Tracking: Clients can utilize powerful marketing tools with timely reporting, market research, campaign optimization and measurable results that help fine-tune digital strategies.
Through data-driven, optimized solutions, U-T Digital Services can help customers increase viewers and page views on smartphones, tablets and any other device that connects to the internet.
"We've evolved our mission toward strategy, service and optimization. We're here to help build a comprehensive digital strategy with consistent branding and messaging targeted to any audience on any device at any time. We then measure performance and recommend optimization strategies that deliver results," stated Brett Sondrup, Director of Digital Sales. "We are here to help our partners achieve top-tier results and grow their businesses."
"The U-T San Diego is invested in the communities and businesses we serve, and this new service further establishes us as the pre-eminent multi-platform media company in Southern California," Joe Brenneman, Chief Revenue Officer said. "We have evolved beyond our humble newspaper roots, and will continue to grow and add services to remain relevant and vital in an ever-evolving technological landscape."
The U-T will provide free seminars to San Diego businesses to keep them informed on the digital landscape and how to best optimize their digital presence.
For more information, visit: http://www.utsandiego.com/digitalservices/.
# # #
About U-T San Diego
The San Diego Union-Tribune, LLC, owner of the 145-year-old U-T San Diego, is San Diego's leading on-demand news source and the most comprehensive source of news, entertainment and information in the region. Each week, U-T San Diego products are delivered to more than 96 percent of all San Diego County households through the combined strength of its integrated media portfolio: the Pulitzer Prize-winning newspaper, U-T San Diego; the website, UTSanDiego.com; the Night + Day, Sunday's Best and DiscoverSD weekly entertainment guide and website, DiscoverSD.com; Spanish-language products, Enlace and Vida Latina-San Diego; U-T TV, an on-demand digital news platform; and hyper-local community papers, U-T Community Press.