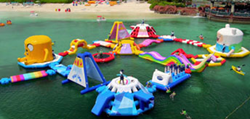 Paradise Island, Bahamas (PRWEB) July 31, 2014
Kandice Pelletier Swimwear, the official swimwear of the 2014 Miss Teen USA competition, today announced that it will sponsor the Miss Teen USA Obstacle Course Challenge at Atlantis Paradise Island Resort, Bahamas on Thursday, July 31st.
All 51 contestants will compete on the Cartoon Network Obstacle Course in their Kandice Pelletier Swimwear for a chance to win valuable prizes and earn bragging rights.
The obstacle course challenge is one of several activities the contestants will experience leading up to the finals of the 2014 Miss Teen USA competition streamed LIVE on August 2nd at 8 p.m. at http://www.missteenusa.com.
"From the classroom, to the beach, stage, and now the obstacle course, these young women truly distinguish themselves," said designer Kandice Pelletier. "We're proud supporters and fans of Miss Teen USA, and are excited to see who wins on the course, and in the competition!"
Kandice Pelletier, a former Radio City Rockette, Miss New York, and Amazing Race contestant, started the line in 2011 after a long history of competing in pageants. Her suits can be worn on the beach, but are specifically designed for on-stage wear, earning Pelletier the title of "America's Pageant Swimwear Expert." The company annually sponsors over 50 elite pageants and serves as the official swimwear for Miss USA 2014 and Miss Teen USA 2014. The swimwear is designed and produced in New York City.