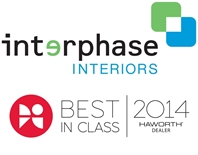 Dealers that are multi-year Best In Class designees exemplify a commitment to high performance and the maintenance of rigorous standards over time.
Michigan (PRWEB) July 31, 2014
Haworth, Inc. announced that Interphase Interiors has been awarded the national 2014 Best In Class dealership for the third year in a row. The annual distinction is awarded to dealerships based on exceptional performance in marketing and brand development, sales and customer satisfaction, operational excellence as well as enterprise development.
"Haworth appreciates the example that Interphase Interiors sets in its market," said Rob Hendrickson, Haworth director of dealer development. "An exceptional customer experience is only possible when we and our network of dealers have a shared vision and defined actions to turn that vision into reality."
Each year, Haworth's Best In Class standards become more rigorous. In 2014, the global
manufacturer continued to improve its criteria to maintain alignment with its product and sales
strategy. Among the 30 Best In Class dealers, 23 have earned the distinction in multiple years.
"Dealers that are multi-year Best In Class designees exemplify a commitment to high performance
and the maintenance of rigorous standards over time," said Hendrickson.
Interphase Interiors is one of 30 dealerships to be awarded the 2014 Best In Class distinction. Haworth works with a network of more than 250 North American dealerships – independent businesses – that provide sales and support to customers by helping architects, designers and facility managers in the complex process of selecting, specifying, planning and purchasing furniture and workspace interiors. Interphase Interiors is a multi-year Best In Class designee.
"I am thankful for the hard work, ingenuity and dedication of our team," said Randy DeBoer, president of Interphase Interiors. "The Best In Class distinction is a testament to the exceptional work our team members perform every day to ensure that we are satisfying our customers and achieving organizational excellence."
About Interphase Interiors:
Interphase Interiors has been providing total workspace solutions in West and Northern Michigan for more than 33 years. With offices in Grand Rapids and Traverse City, Interphase Interiors is the exclusive dealer in these regions for Haworth, the world's most innovative office furniture manufacturer. Further information can be found at http://www.interphaseinc.com or by calling 616-245-0800.
About Haworth, Inc.:
Globall, Haworth improves workplaces with award-winning furniture, interior architecture and technology solutions to help customers achieve business goals, transform culture as well as support collaboration and innovation. Research + design drive a deep understanding of agile workplace needs and are at the center of the company's strategy. Haworth is committed to protecting and restoring the environment, creating economic balue as well as supporting and strengthening its communities. Founded in 1948, Haworth remains fmaily-owned and privately-held and serves markets in more than 120 countries through a global network of 600 dealers. The company had net sales of US $1.41 billion in 2013.
Haworth.com | HaworthCollection.com | @Haworthinc | Facebook.com/Haworthinc