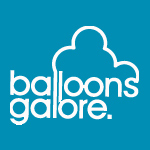 This is an excellent service that will be well suited to children's birthday parties, anniversary parties, weddings and any other special events.
Broughton Astley, Leicestershire (PRWEB UK) 8 August 2014
Ordering custom printed balloons has become even easier with a new service that is being offered by Balloons Galore. The UK based balloon printing company is offering a new service that allows customers to order a full colour print on a foil balloon for any batch size – including a one off.
This is an excellent service that will be well suited to children's birthday parties, anniversary parties, weddings and any other special events. The custom printed balloons can be ordered all over the UK and are available all around the world, although international customers need to contact Balloons Galore for a specific shipping price.
How it Works
The easy to use Balloons Galore website makes it simple for customers to design their balloons and make their custom order. All visitors need to do is to click on the custom Balloon Configurator online and then choose the options they want.
The fully customizable balloons can be designed in a number of different ways and the customer will be able to choose balloon colour, ink colour, text size and style. Then the customer will also be able to upload a photo from their computer to be printed on the balloon, or choose an image from Facebook.
A stock image gallery is also offered, so that customers will be able to choose a suitable design or image that is appropriate for the event. Of course, customers will also be able to choose the shape of the balloon, whether they are looking for a simple round shape, a sweet heart shape or any other option.
Each step of the process is simple and easy and it only takes a few minutes to complete. At the end, a preview of the finished balloon will be shown and the customer will be able to confirm their order.
With so many options to choose from, there are many different possible designs of balloons available from this online customisation tool. Also with the addition of the option to upload personal photos and write a message, there are infinite possibilities for custom designed balloons.
Custom Balloon Service Makes Decorating Personal
When decorating for any special occasion, from a wedding to a surprise birthday party to a retirement party, balloons can really liven up a space and make it feel festive. Having the ability to custom design balloons with a specific image and text allows for an even more special finishing touch to the party decoration.
Imagine bringing someone who is in the hospital a get well balloon, customized with a favourite photo and a personal message. Or perhaps surprising a couple on their wedding day with a special balloon that features their photo, names and wedding date. There are many situations where a custom designed balloon could really add a very meaningful and unique sentiment to a special occasion.
By offering this service, Balloons Galore are not just providing their customers with generic party decoration supplies – they are offering them the chance to create a one of a kind gift for loved ones.
About Balloons Galore
This reliable and well established in house balloon printing company have over 30 years of experience in the industry and they are based in Broughton Astley, Leicestershire. They offer a UK delivery service for all balloons and party-decoration related products, including self-sealing balloon heli-valves, helium gas, heavy duty balloon hand pumps and balloon cups and sticks. They also offer fancy dress outfits for adults and children, wigs, balloon LED lights, electric air inflators, balloon hand pumps and much more.
Balloons Galore is well known for offering a high quality and cost effective service to their clients. They pride themselves on the excellent customer service that they strive to provide. To find out more about the products that they have to offer, their custom balloon service or anything else just visit their website for more information.
Contact
Balloons Galore
15 Stanier Road
Broughton Astley
Leicestershire
LE9 6TW
Email: info(at)balloonsgalore(dot)co(dot)uk
Tel: 01455 284422