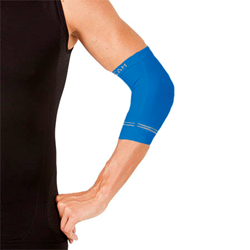 Relieve tennis elbow pain with targeted compression technology.
Miami, FL (PRWEB) July 31, 2014
Zensah®, a leading Miami based compression apparel company, has recently released their innovative compression elbow sleeve, designed to help target tennis elbow, elbow tendonitis, and other elbow pain, in two new bright colors for summer. The compression elbow sleeve is now available in neon pink and blue. Made of innovative proprietary Zensah® fabric, the elbow sleeve is made with moisture wicking and odor-preventing fabric. It features a no-slip cuff to ensure it stays in place, even during the most rigorous tennis matches.
Lateral Epicondylitis, more commonly referred to as "tennis elbow", is an inflammation of the fibers that attach the extensor muscles extending from the wrist and fingers to the outside of the elbow. It arises from the constant overuse of swinging a racquet or any other repetitive motion associated with the wrist, forearm, and elbow. Micro tears in the extensor muscles are primarily responsible for tennis elbow and cause inflammation and the development of scar tissue. Scar tissue is weaker than and does not stretch as much as regular muscle tissue. Overuse of the wrist tears the scar tissue and causes continuous inflammation in the elbow.
"Golfer's elbow," or Medial Epicondylitis is an injury to the muscles that flex your wrist and fingers. The medial epicondyle, a bony bump on the inside of the elbow where these muscles attach, is typically the site of the injury. The golfer's elbow sufferer will experience pain when performing gripping tasks or resisted wrist/finger flexion. There will be tenderness directly over the bony epicondyle, and there may be trigger points in the wrist flexor muscles. Some sufferers will also have neck stiffness and tenderness, as well as signs of median nerve irritation (the nerve that passes through the carpel tunnel). Most elbow movements will be pain-free. Gripping is painful.
Zensah® Compression Elbow Sleeve features a flip cuff that folds over to provide targeted compression in the upper forearm area. This helps to treat tennis elbow at the exact source of pain, like popular tennis elbow bands. Zensah® takes it one step further by incorporating a sleeve that also provides muscle stabilization and support to the entire elbow area. Chevron ribbing provides advanced support in the forearm area.
"The Zensah® Compression Elbow Sleeve has become a best seller for us as a company. When we originally released it, we only had it available in white and black. Because of the substantial success we saw with the product, we decided to release it in a bright neon pink and blue," says Parker Robinson, Zensah®'s Spokesperson.
About Zensah: Zensah® is a Miami-based company, specializing in sports compression apparel. Their seamless compression products are praised by athletes and fitness enthusiasts, including runners, triathletes, tennis and golf professionals. Zensah® offers compression products for performance and recovery. According to Leisure Trends Group Specialty Running RetailTRAK™, Zensah® has the number one selling Compression Leg Sleeves in the US for Running Specialty.
Parker Robinson
marketing(at)zensah(dot)com
ZENSAH COMPRESSION APPAREL
(305) 935-4619