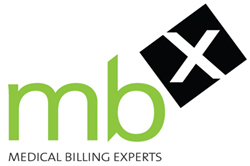 Salt Lake City, UT (PRWEB) August 01, 2014
Today marks the official launch of Medical Billing Experts, LLC (MBX) with the convergence of three well respected market leaders including BOSS Medical Professionals (BOSS), Salt Lake City, UT; Premier Imaging Financial Services (PIFS) of Columbus, OH; and Six Seven Group (67G) of Charlotte, NC. Together these organizations serviced, and will continue to service, some of the nation's largest radiology group practices, including Charlotte Radiology (Charlotte, NC) and Riverside Radiology and Interventional Associates (Columbus, OH).
This morning, the staff of each organization moved into their respective, subspecialized roles including client concierge managers, custom report developers, claims evangelists, and stakeholder billing navigators. Each role is designed to deliver exceptional billing processes on both the client and patient sides of the equation, while capturing all appropriate revenue for services provided by their clients. Complementing this breakthrough staffing model is MBX's proprietary software that can scrub claims on multiple layers to deliver a clean claim to the right person on the first try, saving precious time and resources for clients, payors, and patients. Also aligned with this process are MBX's billing subspecialists, who leverage IT to focus on critical billing success factors along the continuum to identify and correct processes that cause delays, thus expediting payment.
"The key to our success is the organization's unique ability to dig in with our clients and create a true strategic partnership that meets their needs in a way that their previous billing provider couldn't," said Dave Monaghan, MHA, CEO of MBX. "This takes many different shapes, including customized reporting components that more effectively supports the group's operations infrastructure, all the way to hybrid models that share elements of the billing process with the group. Because of our organization's genetic makeup, we can be very nimble and responsive to client needs beyond the competition that's out there."
MBX operation centers will utilize the Imagine® billing software platform, proven to be a high performance platform that can be efficiently customized to meet the unique needs of physician practices, including radiology, anesthesiology, emergency, and pathology. Combining MBX's leadership experience with the Imagine suite of product offerings, the tools available are creatively leveraged to the highest levels for each client. In addition, processes utilized by MBX are carefully monitored by dedicated compliance professionals to ensure services are consistently aligned with recommendations from regulatory agencies including the Office of Civil Rights and the Office of the Inspector General (OIG).
"We believe we're on the leading edge of what medical billing providers should be offering both their clients and their clients' patients," Monaghan continues. "Delivering best in class billing with intuitive software that helps you to bill effectively the first time and every time, combined with a service component to keep all stakeholders happy: it just doesn't get any better than that."
About MBX
MBX approaches each client relationship as a truly integrated strategic partner, intricately aligned to help the practice accomplish its strategic objectives well beyond the scope of medical billing processes. Each member of the MBX leadership team has run successful medical billing companies in highly competitive markets. Now together under MBX, these billing experts are leveraging their collective experience to consistently deliver on a set of clearly defined expectations while establishing trusting, long term relationships with their clients.
MBX will be exhibiting at the RBMA Fall Educational Conference in Seattle, WA October 17-18, 2014. Exhibit space # 200.