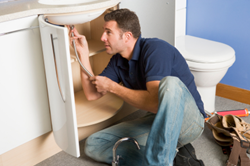 San Antonio, Texas (PRWEB) July 31, 2014
Aramendia strives to meet as many of locals' needs as possible, and that is why a whole-house approach is taken to services provided. Many companies offer one service or the other, but San Antonio AC repair company Aramendia Plumbing Heating & Air is a one-stop shop.
There are many benefits to having an HVAC company also provide plumbing services. The last thing homeowners want to do is to search for a new company when something unexpected happens to a system in the home. This is especially true if there's a plumbing emergency or the air conditioning unit goes out in the middle of the night or on the weekend. Aramendia customers need to have one less name in their Rolodex.
As a family-owned business, the team at Aramendia does their best to become an extension of customers' families, who can be depended on when a problem arises. Like a trusted family member, an Aramendia AC technician or plumber can provide services 24 hours a day. Aramendia is currently offering a special for free estimates and no trip charges for customers' convenience and ease of scheduling. Visit http://aramendia.com/san-antonio-plumber/ for specials.
About Aramendia Plumbing, Heating and Air
Aramendia Plumbing Heating & Air has been serving Texas customers for more than two decades. As a full-service repair, installation, and maintenance company, Aramendia offers exceptional and expert service to its loyal customers. Aramendia's services are backed with a 100 percent satisfaction guarantee.