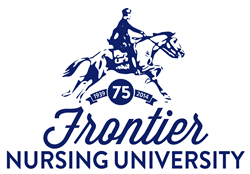 We are so excited to be able to offer these scholarships to FNU students whose goals align with the FNU's goal of serving in rural and disadvantaged areas.
Hyden, KY (PRWEB) August 01, 2014
Frontier Nursing University has been awarded a grant from the Health Resources and Services Administration's Advanced Education Nursing Traineeship (AENT) program. This two-year grant totals $700,000 and will provide direct support to 280 students over the grant period.
The purpose of the AENT Program is to increase the number of advanced education nurses trained to practice as primary care providers and/or nursing faculty to address the nurse faculty shortage that inhibits nursing schools from educating the number of nurses needed to meet demand. This purpose is met by providing grant funding for traineeships that will pay all or part of the costs of the tuition, books, and fees of the program of advanced nurse education. Priority is given to students who plan to practice in rural and/or medically underserved communities.
Because 100% of FNU graduates are educated to provide primary care, the FNU student body is a precise fit with the goals of the AENT program. Not only does Frontier recruit, educate and graduate advanced practice nurses and midwives to work in primary care, but our university targets students from educationally disadvantaged backgrounds and minority groups. With 70% of FNU students residing in federally designated rural counties and 77% in Health Professional Shortage Areas, FNU has a pool of students who can benefit greatly from this assistance.
"We are so excited to be able to offer these scholarships to FNU students whose goals align with the FNU's goal of serving in rural and disadvantaged areas. Most often, students are dependent on the federal financial aid loan program to fund their education. The result is graduation with large amounts of debt. Being able to reduce the debt load for our students is a huge accomplishment," said Dr. Susan Stone, FNU President. "These students might have had their graduate education goals postponed or unfulfilled because of financial constraints, and now we are able to reach out to and help alleviate some of their financial burdens. Our mission is to educate nurse-midwives and nurse practitioners to serve women and families with a focus on rural and underserved areas, so the AENT grant is a perfect fit with our institutional goals."
FNU will award 280 scholarships, valued at $2,500 each, over the two-year grant period. FNU tuition, if attending full-time, ranges from $18,150 to $53,040 depending on the program in which the student enrolls. This funding will make the difference to students experiencing financial difficulties and allow them to complete their graduate education.
Read the full story on the FNU website.
About Frontier Nursing University:
FNU provides advanced educational preparation for nurses who seek to become nurse-midwives, family nurse practitioners, or women's health care nurse practitioners by providing a community-based distance graduate program leading to a Doctor of Nursing Practice (DNP), Master of Science in Nursing (MSN) or a post-master's certificate. For more information about Frontier Nursing University, visit http://www.frontier.edu.