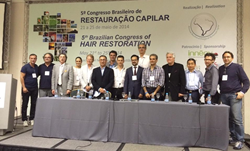 Los Angeles, CA (PRWEB) July 31, 2014
Dr. Mohebi was asked about his experience attending these international scientific meetings, "I love the experience of traveling and sharing what we learned through research and innovation at our centers in Southern California. We are now witnessing results that we never thought possible even a few years ago. It is our pleasure to communicate this knowledge to our international colleagues."
Dr. Mohebi's presentation about more efficient ways of performing FUE transplantation helped inspire many other doctors to utilize its more advanced techniques for their practice. Dr. Mohebi's position as the chairman of the FUE Research Committee has given him the opportunity to be at the center of FUE related studies, where he learned to use more efficient instruments in FUE transplantation. Dr. Mohebi stated, "We have been witnessing the emergence of a variety of FUE devices that facilitate extraction and implantation of hair follicular grafts. What we have done was several studies at US Hair Restoration Centers that compare the quality and efficiency of new FUE procedures with the results of more traditional procedures."
Dr. Mohebi took advantage of these conferences to educate the doctors on what kind of results can be achieved using his modern methods. Dr. Mohebi's presentation about using the latest techniques to improve FUE efficiency helped illustrate how doctors everywhere can achieve better results using FUE transplant procedures. His audience was inspired by how following these specific steps could significantly improve patients results and satisfaction.
About US Hair Restoration:
US Hair Restoration was established in 2008 by Dr. Parsa Mohebi. As chairman of FUE Research Committee and creator of the several methods and techniques in modern hair restoration, Dr. Mohebi and his staff provide the most advanced techniques in hair restoration. The overall goal at US Hair Restoration is to restore patient's self-esteem through the use of quality hair restoration.