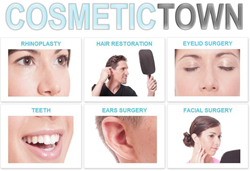 Los Angeles, CA (PRWEB) July 31, 2014
Cosmetic Town has introduced a secure verification system that will benefit both patients and doctors. Doctors will be able to verify their patients before the patients are allowed to leave reviews, which guarantees their authenticity. This will help prospective patients exploring different treatment options on the site to receive information that has been verified to come from a trusted source. This unprecedented validation system allows Cosmetic Town to filter out fake patients who leave fraudulent reviews in order to promote competing services. Doctors who are confident about their handling of patients will find this organic review method very rewarding and refreshingly original.
Cosmetic Town's Editor in Chief, Yehuda Gladen, reaffirmed this point, "When considering different cosmetic treatments, patients want to learn from real patients who have been through a similar procedure, and not some unknown entity that has a potential hidden agenda. Choosing a cosmetic surgeon can have long lasting consequences and is not a decision that should be made at the spur of the moment. Our site will encourage users to do more research using its legitimate sources."
Cosmetic Town's mission is to advocate for the rights of patients, who are able to share their experience without revealing their identifying information. Cosmetic Town protects the rights of these patients to remain anonymous while empowering them through its novel review system. The reviews from this innovative method will also help other cosmetic consumers find the most reliable information on cosmetic treatments.
About Cosmetic Town
Cosmetic Town is the only cosmetic industry site which authenticates both doctors and real patients. The site features doctors that have been carefully reviewed and endorsed by their peers making it easy for users to find the most qualified and highly recommended cosmetic doctors in their area. Users can also read about the latest news in plastic surgery, anti aging treatment, hair restoration, cosmetic dentistry, and facial and body modification at Cosmetic Town Journal.